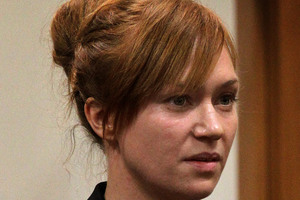 "Runaway millionaire" Hui Gao was allegedly heard to say "I'm f***ing rich" when he learned Westpac bank had mistakenly deposited $10 million into his account, a court has heard.
Crown prosecutor Fletcher Pilditch is giving his opening argument at Rotorua District Court in the case against Kara Mary-Jo Hurring, who allegedly left New Zealand with her former partner Gao when Westpac mistakenly put the money into his account in April 2009.
Mr Pilditch said it was alleged Gao had learned of the error when checking his bank account at his home on the evening of April 25.
The Crown alleged Gao tranferred almost $6.8 million into several bank accounts before fleeing overseas, leaving through Auckland International Airport at 9.30pm on April 29.
The Crown further alleged an ASB account loaded with $500,000 was used for expensive purchases as much as $1500 and withdrawals of $1000 over the next four days, before Hurring boarded a flight with her daughter on May 3.
It is alleged these funds were Westpac money.
The banking error was discovered the next day on May 4.
Mr Pilditch told the jury it was alleged that, once Hurring had arrived at a casino in Macau, a casino "front money" account signed under Hurring's name was loaded with a total $341,000 or HK$1.5 million.
Gao had applied to Westpac for a $100,000 overdraft for his struggling BP petrol station but the bank accidentally transferred $10m.
When he realised the error he allegedly skipped the country.
About $3.7m is still missing.
The couple's disappearance sparked an international manhunt involving Interpol and other overseas agencies.
Gao was arrested in Hong Kong last September and was returned to New Zealand just before Christmas. He did not oppose being extradited and was remanded in custody.
Gao faces 17 charges of theft and 10 charges of money laundering, was called in the High Court at Rotorua today.
Hurring was arrested when she re-entered New Zealand earlier last year.
Theft and money laundering charges originally laid against Hurring were dropped and replaced by charges of international money laundering to the value of more than HK$1.5 million [$230,000] relating to activities in Macau.
Her trial is due to last four days in the Rotorua District Court.
Gao will face trial at a later date.