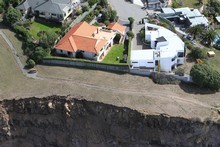 A 48-year-old contractor has appeared in court today after a red zone burglary spree in Christchurch.
Justin Ackland, from Lyttelton, was arrested at the weekend after reports of suspicious activity at a Redcliffs property.
Police allege the man targeted a number of abandoned or red-stickered properties, including homes in hill suburbs.
This morning he was granted a registrar's remand at Christchurch District Court and did not have to appear before a judge.
He was remanded without plea on charges of burgling properties in Balmoral Lane, Redcliffs until April 23.
On Saturday, a member of the public reported seeing a man enter a quake-damage and abandoned home on a cliff.
Police inquiries led them to a lock-up garage where the found property they suspect was stolen from red-zoned houses.
More charges could follow, police say.
Today, Christchurch Police have said it could take several weeks to itemise and return property found during the weekend burglary arrest.
Sergeant Lachy Garrick said police found dozens of household items at a storage unit after the arrest on Saturday.
"It's a sizeable haul. We have already been able to return a number of items to one property owner whose home was burgled on at least two separate occasions,'' said Mr Garrick.
"But we believe there will be additional items that remain outstanding which we will need to locate and then try to match these items to reports of stolen property. That could take some weeks.
"We are asking people to contact police if they believe they have had items stolen from their homes and have not yet reported these thefts.'' Police are also continuing to encourage residents to report suspicious activity - especially in red-zoned areas and around abandoned properties.
"This arrest came about because of the actions of neighbours who saw suspicious activity and reported it to police - they did absolutely the right thing,'' said Mr Garrick.
By APNZ staff