A wildlife expedition to Fiordland takes you up close to a pristine land of legend and glacial beauty, writes Jim Eagles.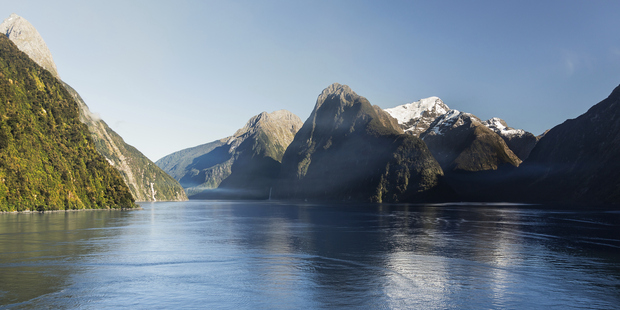 If I'd known the captain was going to run our 103m-long ship right under the beautiful Stirling Falls, I wouldn't have bothered having a wash that morning.
For the occasion they allowed us on to the usually sacrosanct foredeck of the expedition ship Orion, and advised everyone to wear full waterproof gear.
But not even the finest parkas and leggings could keep out that vast torrent of water, plummeting 150m from the lip of a glacial lake into the waters of Milford Sound, and the great cloud of icy mist that surrounded it.
So as we danced on the deck in this giant shower, the great stone cliffs only a couple of metres away and the roaring of the cascading water echoing all around, it was inevitable that we got an extra rinse.
Unlike some brave fools I didn't stand right on the bow under the actual downpour but I still had to retreat inside afterwards to dry off.
But then, if you go to Fiordland you expect to get wet because it is the amazing combination of stone and water - in the sea, the lakes and rivers, drifting in the perpetual mist or falling from the sky - that make this one of the most spectacular places on Earth.
According to Maori legend, the fiords themselves - those narrow channels that allow the sea to make its way 15-20km inland through the outposts of the Southern Alps - were carved by the demigod Tu-te-raki-whanoa with his giant adze Te Hamo. The result was so magnificent that the grumpy goddess of the underworld, Hine-nui-te-po, created sandflies so the place wasn't quite perfect.
An Australian who joined us for a zodiac trip around Milford Sound had heard a different story: "I thought the Maoris said the fiords were scratched out by a giant weka. That's what someone told me." Aussies.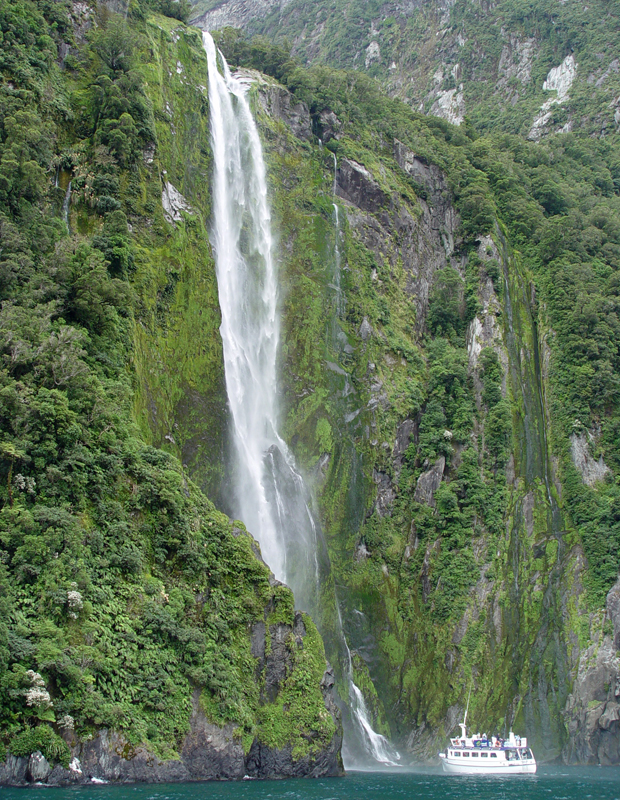 A boat approaches Stirling Falls in Milford Sound. Photo / Thinkstock
Fortunately, the explanation provided by geologists is equally colourful but rather more convincing than the giant weka theory. Most of the fiords, like Doubtful and Dusky Sounds which we had visited earlier in our trip, were carved out over the centuries by huge glaciers.
But Milford, the most spectacular of them all, is where the two tectonic plates that make up New Zealand (the Pacific plate and the Australian plate) come together.
So, as Mick Fogg, the guide for our exploration of Milford, pointed out: "Over here, on this side of the sound, the cliffs are granite. Over there, on the other side, they're greywacke and schist. That's because they are two different plates."
When we travelled to the other side of the sound, I could readily see what he meant. Even to my inexpert eye the rocks were completely different.
Those two opposing rock faces meet 300m under the water - making the sound too deep for the Orion to anchor - and then soar straight up for more than a kilometre to create walls of sheer stone only a few hundred metres apart.
Behind those cliffs, peering through the inevitable misty clouds, loom great snowcapped peaks, the classic triangle of Mitre Peak (1600m), the Elephant (1517m) that is supposed to look like an elephant's head, and Lion Mountain (1302m) that from some angles does indeed look like a crouching lion.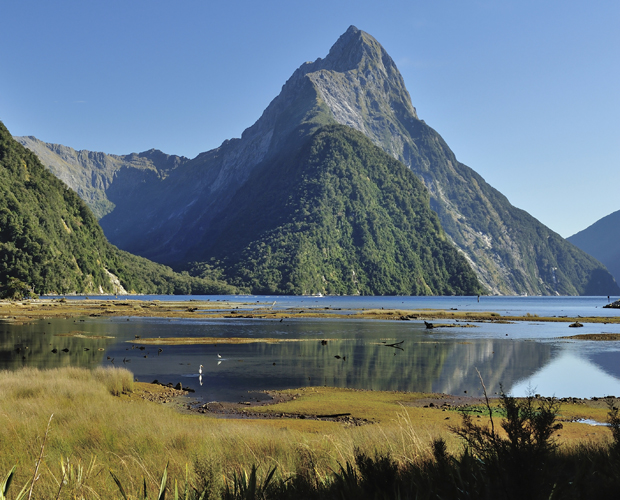 Mitre Peak is one of the spectacular sights viewed from the Orion as it cruises through Milford Sound. Photo / Thinkstock
Falling on all this superbly carved stone is rain - masses of it, 6813mm a year in Milford Sound itself, making it the wettest inhabited place in New Zealand, even wetter than Auckland in summer.
With so much moisture the plant life flourishes so that, incredibly, those sheer stone cliffs are covered in dense green undergrowth, with red patches of flowering rata and the occasional bald spot left by a rockslide.
And, of course, everywhere are waterfalls, most of them hundreds of metres high. Some, like the Stirling Falls we showered under, or the Bowen Falls further down the sound, have vast volumes of water.
But in many ways the most spectacular are the thin strands of water that wind their way down the 1000m-high stone bluffs, sometimes almost vanishing as the wind whips the water into a fine spray before eventually ending up in the sound below.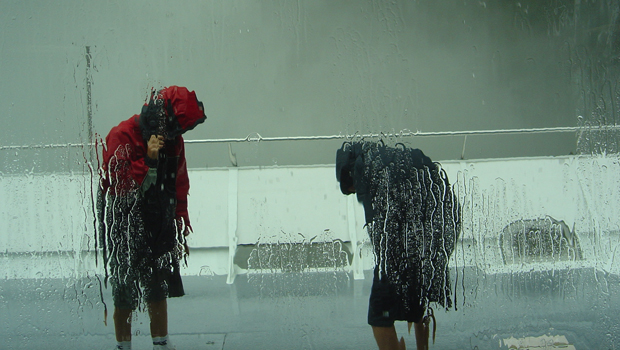 Cruise passengers are drenched as their vessel approaches the base of a Fiordland waterfall. Photo / Thinkstock
Amid all this splendour there is plenty of wildlife, which was why we had called into the sounds - as part of a wildlife cruise of the Subantarctic Islands.
Exploring the shoreline in a zodiac we saw any number of New Zealand fur seals. (Mick, an Australian, claimed it should really be the Australasian fur seal. Like pavlova, Phar Lap and the Finn brothers, eh?)
Some of the seals were sunbathing on the rocks, their prominent whiskery moustaches and hairy eyebrows giving them the look of elderly English gentlemen. One, when he saw our cameras approaching, even put a flipper over his face in a plaintive plea for privacy.
Others were rolling in the water and waving their flippers in the air, which I thought meant they were having fun, but Mick explained it was more likely to be a desperate effort to rid themselves of sea lice.
A couple of times we saw bottlenose dolphins doing their aquatic acrobatics, including an enthusiastic group of about 20 that were obviously used to performing for visitors.
Sadly, we didn't spot any of the rare Fiordland crested penguins, though passengers in some of the other zodiacs did. One couple told us rather smugly that they saw two penguins together preening, going through a courtship ritual and finally calling. Don't you hate some people?
But we did see several red-billed gull nests with fluffy chicks wandering around, usually with the parents overhead screaming at us to keep away. Further on we also came across some black-backed gulls with their slightly larger chicks. And on the other side of the sound were two pairs of oystercatchers, one with a pair of chicks and the other with two baby balls of fluff.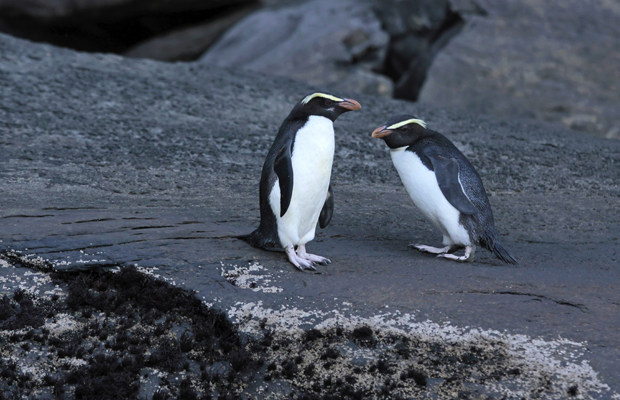 Fortunate tourists may catch a glimpse of the rare Fiordland crested penguins. Photo / Thinkstock
There was plenty more birdlife to be seen during zodiac cruises of Dusky and Doubtful Sounds. There were great spotted shags, New Zealand shags and pied shags. That might not sound exciting but they inspired an Australian couple who were keen birders to engage in a ferocious debate with one of our guides about whether one of their photos showed a rare king shag. Eventually, it was decided the photographed bird was only a juvenile spotted shag.
But we did see some rare brown creepers flitting in the glorious red flowers of the rata, as well as bellbirds, South Island fantails, grey warblers and tomtits, sooty shearwaters (titi or mutton birds), giant petrels, Cape petrels and even a couple of lordly white-capped albatross.
At the floating Blanket Bay Hotel in Doubtful Sound, a refuge for local fishermen, a boat from the Orion was waiting with glasses of hot chocolate and rum for us to savour. Delicious.
It was also a timely reminder that this area, Dusky Sound to be precise, is where the first alcohol in New Zealand was made when Captain James Cook brewed up what he called spruce beer for his crew during their visit in 1773.
At his camp, on what is now Astronomer's Point, the Department of Conservation has built a boardwalk that allowed us to wander through the area. I found it moving to savour the largely unchanged, moody beauty of this incredibly historic site. It was all too easy to imagine the Endeavour tied up here and the crew busy repairing and restocking after their voyage of exploration halfway round the world.
Cook reckoned his spruce beer was a great success (though some of his officers described it as dreadful) but I'm sure it wasn't as good as my rum and hot chocolate.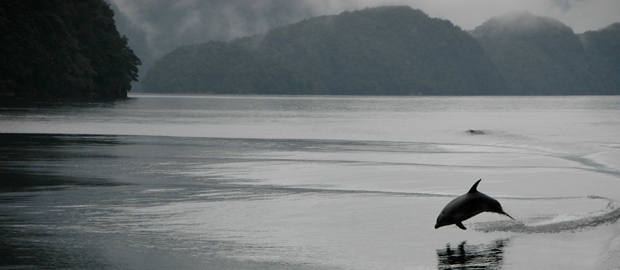 A bottlenose dolphin leaps from the waters of Dusky Sound. Photo / Thinkstock
The only downside was that just as I had wrapped my hands gratefully round a glass, a kaka appeared and flew noisily above, offering an impressive display of the beautiful red and green plumage under its wings - when I had no chance of taking a photo.
Oh, and we also saw plenty of weka foraging on the shoreline - mostly brown ones, but some of the uniquely Fiordland variety that are almost black. Maybe those are the ones that, according to the Australian version of the Maori legend, dug the fiords out.
After all, you would be likely to get a bit dirty doing that much excavation. Maybe those weka are really dirty diggers.
CHECKLIST
On the water: Orion Expedition Cruises visits the Subantarctic Islands, including Auckland, Campbell and Macquarie Islands and The Snares, as well as Fiordland and Stewart Island, over the Christmas/New Year period.
Jim Eagles was a guest of Orion Expedition Cruises.