Elisabeth Easther visited Blue Duck Station with her son and found the perfect spot.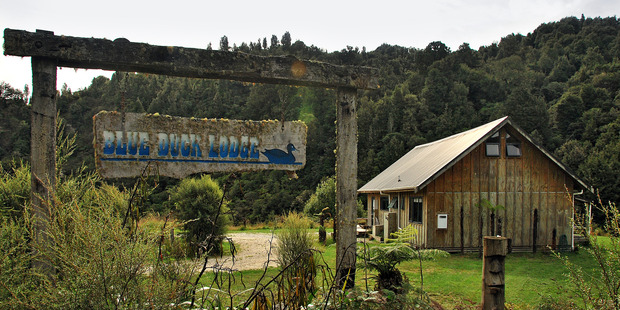 Snug in the Ruapehu District, 44km from Owhango (itself midway between Taumarunui and National Park), Blue Duck Station is a 2000ha working farm spread out along the banks of the Whanganui and Retaruke Rivers.
Surrounded by the lush Whanganui National Park, the place is like having nature slap you in the face, in a good way of course. Dense bush clings to the hillsides and families of pretty pink pigs snuffle in the undergrowth. The gravel roads provide that increasingly rare sensation of being well off the beaten track, so take a decent vehicle if you're able.
You should also know, cellphone reception is pretty patchy round these parts so prepare to put away the devices for a spell - in this neck of woods logging on is more likely to be about forestry.
A working farm-turned-traveller-paradise, Blue Duck Station is a conservation project, folly and natural wonder all in one. Run by Dan Steele, along with assorted family, staff members and volunteers, this back-to-nature retreat attracts backpackers, couples and families staying a night before tackling the Whanganui River or the Tongariro Alpine Crossing.
There's also loads of mountain biking nearby, including the well-loved Fishers Track and Bridge to Nowhere rides.
The station's core values revolve around conserving endangered wildlife, increasing the health of native bush and rivers and preserving the history of the area while educating visitors about the importance of New Zealand's endangered whio, aka the blue duck.
Spending a few days at Blue Duck, my son and I enjoyed a clutch of outdoor activities. One we'd never seen before involved hurling a double-headed axe at a great big chunk of trunk painted faintly with target rings, guaranteed to help you find your inner Viking. Skeet shooting was also cool and I have to say I was pretty chuffed to blow some of those spinning orange discs out of the sky.
If you're fond of horses, regardless of your level of experience, you can saddle up and enjoy a trek although our trip up the back blocks on the Polaris, a super off-road golf buggy that can climb any mountain, is a splendid way to see the sights. The views from the top of the peak were stunning.
Celebrating his birthday at the station, my boy loved every glorious muddy moment of farm life, feeding ducks, patting dogs, riding horses, lighting fires and generally messing around without being hovered over. I wasn't so sure it was a good idea for him to use his new hoodie as a sled, but it looked like such fun I was loath to stop him.
As for the flying fox, it's about 350m long, clearing the Retaruke River at a great height (not to mention speed) to arrive safely in a paddock near the station's Blue Duck Central cafe. It rendered us giddy with exhilaration.
We'd be keen to return and try pig hunting, if only to witness the working dogs sporting antennas on their collars.
The handsome hunter, armed with knife and gun, could track the progress of his hounds using GPS - who would've dreamed such an earthy sport would take such a technical turn?
You may want to leave your vegan friends at home though because, depending on the day, the menu includes lamb on a spit, rabbit pie, goat curry or wild pork.
And don't tell your feline friends, but there's a bounty here on wild cats: Dan gives guests $50 off their bill (or a bottle of whiskey) if they bring in a humanely killed wild cat carcass. Gareth Morgan will be pleased; the reason for the price on their furry little heads is to protect the birds.
Blue ducks, for instance, go completely still when they sense danger, which would've been dandy back in the day when all their predators were airborne, but with so many introduced mammalian predators, this is no longer a practical option.
With accommodation ranging from rustic renovated shearers quarters to tastefully furnished holiday homes, Blue Duck Station is a delightful rural retreat.
Dan and his family hope to turn New Zealand into the biggest conversation project on the planet - and, with their combined energy and determination, they may just pull it off.
NEED TO KNOW
Where to stay: Blue Duck Station offer short or long stays. Stop in for lunch at the excellent cafe or volunteer your time and stay longer. Kill enough wild cats each day and maybe you'll be allowed to stay for free.
Stops to make along the way: Huntly may surprise you, or check out historic Land Wars battle sites. The must-see stop off, of course, is Waitomo (turn off the road, but it's only a short diversion).
DIRECTIONS
Elisabeth and her son were guests of Blue Duck Station.