Hauraki Adventurer and documentary maker Gus Roxburgh shares what he loves about our closest national park, the Hauraki Gulf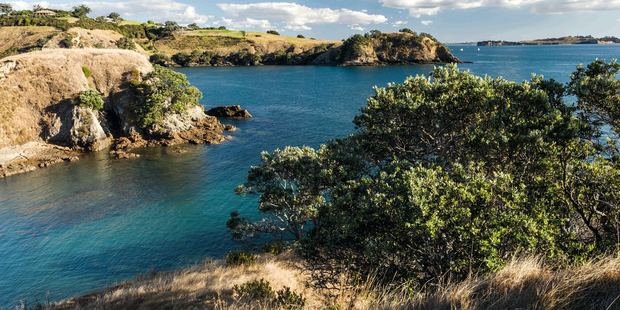 The Hauraki Gulf Marine Park is on the doorstep of Auckland city. It comprises 1.2 million hectares of Pacific Ocean, coast and islands stretching east to the Coromandel Peninsula. It offers a wide range of land and water-based adventures and experiences, and also volunteer opportunities to help the park.
Modern-day Auckland is woven with water, a relationship underlined by the fact that our first "national park of the sea" exists on its doorstep.
Top Five Activities to do in Hauraki Gulf Marine Park
1. Climb the raw flanks of Rangitoto Island, a recently active volcano.
2. Dive among the friendly fishes at Goat Island.
3. Come face-to-face with New Zealand's rarest birds on Tiritiri Matangi Island.
4. Take a floatplane to Kawau Island and experience New Zealand's colonial history.
5. Be a crew member on a racing yacht round the America's Cup course.
What to do if you have 1+ day
Snorkel with friendly fishes: Goat Island, aka the Cape Rodney-Okakari Point Marine Reserve, is near Leigh, one hour-plus north of Auckland. Don a snorkel (plenty of hire places) and get among crayfish, parore, jack mackerel and maybe a big snapper or two. It is family-friendly with beach access and is just 3m-8m deep.
Sail a real America's Cup yacht: There's a range of options, from just sitting back and feeling the buzz on one of these "greyhounds of the sea" through to full-on crew work that will fire your imagination and get your heart pumping.
Ferry to Tiritiri Matangi Sanctuary: This place is a gem, one of the most important sanctuaries for rare and endangered species in New Zealand... and you get to go there! Among the featured creatures are takahe, kokako, saddlebacks, robins, and the "living fossil" reptile, tuatara.
Ferry to Rangitoto Island: Pack a picnic, hop on a ferry from downtown Auckland and within a few minutes you will step on to Auckland's most recently erupted volcano. It's a relatively easy walk up to the crater and well worth it as you pass through pohutukawa forest and on through raw, volcanic lava rock that you would imagine erupted yesterday and not 700 years ago. From the summit the view of Auckland is spectacular.
Volunteer for a day: If you would like a day out in Hauraki Gulf Marine Park, DoC needs help to clean up and maintain various beaches and islands.
There's Rangitoto historic bach restoration, Motuora Island restoration and Motutapu Island clean-up. Go to the DoC Hauraki Gulf Marine Park website for details.
Look for dolphins and whales: Spend a day on the water on a cetacean-spotting boat and enjoy the plentiful seabirds, too. Tour operators are required to adhere to wildlife-friendly regulations; most vessels are based at the Auckland wharves.
What to do if you have 2+ days
Great Barrier Island adventure: The flight over islands of the Gulf is a highlight in itself, but this peaceful, tranquil island has so many more highlights. Here people live in harmony with nature... and there's so much to do if you are into tramping, hot springs, surfing, diving, human history, kayaking or just taking it easy. Surfers will relish the ocean swells on the east-coast beaches and headlands.
Overnight restoration help on Rangitoto or Motutapu:
Work alongside DoC rangers to help restore the cultural heritage of these special islands. You will be asked to help sweep, weed, shovel, dust and whatever else is needed to keep historic sites spick and span. Have a blissfully tranquil night on an island that's so close to Auckland city.
What to do if you have 4 + days
Work with DoC on islands of Hauraki Gulf Maritime Park: There are many opportunities to stay overnight, and for your time and labour you are rewarded with huge satisfaction and the chance to stay on and explore some stunning, rugged and remote places. Here's one example. "Wacky Weed Week" is a five-day (four-night) live-in volunteer opportunity to help beat the weeds on Motuihe Island. The work includes spraying, clearing, cutting and spot poisoning. Volunteers with a head for heights will work (safely) on steep cliffs, dealing to dense weed patches. After work, dine in the glow of sunset and take a night walk to see and hear nocturnal wildlife. Happens every month through summer.