Elisabeth Easther visits a small town with a big heart - and plenty to see and do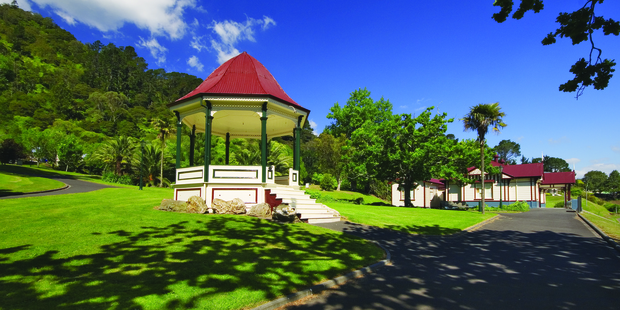 A town called Love, in the foothills of a mountain called Love - also known as Te Aroha - what's not to like?
We had motored down in our rather whizzy Ford Kuga, a four-wheel drive. With plenty of room for the cubs, the mothers riding up front did see the irony of two women of a certain age piloting a Kuga.
Te Aroha is beautiful in winter. Pretty wooden houses with chimney pots puffing out smoke, most with immaculate gardens bursting with pretty flowers and citrus. If there was a competition for marmalade capital of New Zealand, Te Aroha would be in the running.
Our home for the weekend was the YHA cottage on Miro St - and what a charming abode. The lemon tree in the front garden, laden when we arrived, was not quite as laden when we left thanks to our hearty pancake breakfasts. The kitchen was terrifically well-equipped and the swags of communal books, games, music (including well-tuned guitar) were all welcome distractions. With wide-screen views over Waikato's pastures, sunsets here take the cake.
On our first frosty evening we enjoyed a soak at the Te Aroha Mineral Spas. Our private pool was perfect. The five of us wallowed contentedly and mostly reached consensus as to whether we needed more hot or cold in the tub. We were all soft as silk when we emerged, although that said the kids were pretty soft when they went in.
Cycling and walking are popular Te Aroha pastimes, and not just because the Hauraki Rail Trail reaches here. The Howarth Memorial Wetlands, right in town, are fabulous fun, whether you're on wheels or walking. We went to Outdoor Adventures on the Whittaker Street and hired a handful of beautiful bikes, really well maintained and good to ride, and merrily we rolled along, across the narrow bridge just past the skate park. These wetlands have an English forest feel, the ground carpeted with fallen leaves, while another section had a rug of pine needles the colour of orang-utans. This is an easy ride on well-tended paths, freshly constructed boardwalks and enough mud for the youngsters to feel suitably speckled.
Sick of making lunches all term, we organised a picnic from Bosson House Caterers to take up Wairere Falls, which at 153m is the North Island's tallest waterfall. Nimbly we bounded up the boulder-strewn paths, stopping under one of the bridges to play in the sparkling water. This would be paradise in summer, although you'd need insect repellent to avoid becoming a picnic yourself. Hauling ourselves up several hundred steps to the first lookout, we met a handful of hardier souls with sticks and sturdy boots who pointed out the peak they'd just visited, right at the top.
We were in awe of their ascent and will definitely come back to knock it off ourselves, but the children had had enough trudging for one day. Our feast of focaccia sandwiches filled with feta, hummus, tomato and pastrami worked magic on the weary hikers. Ditto the bacon, sausage and egg pie, coconut cake, pears and mandarins. School lunches will be rethought this term; we'll probably have them catered.
The kids were pretty exhausted after the trek, so our second evening was spent at the other pools, where we did some comparison bathing. Te Aroha Leisure Pools offered a very different experience to the more adult spa of the previous night.
This establishment has three pools - a big one for playing, a hotter, shallower one for lounging and a super toasty one for soaking. Despite their fatigue, the children had enough puff to frolic until well after dark.
The town is also great for treasure hunting. We browsed between Second Thoughts Collectables, Restoration Antiques and the cheaper but no less cheerful Salvation Army Family Store. At the local museum we learned everything we needed to know about "taking the waters", and Adrian Wolseley's scrap metal sculptures at Historic Creations are staggering.
With time for one more walk before shooting the gap - because we like to hear children endlessly repeat "how much further is it" - Waiorongomai is a cruisy meander through old mining land. Once a town of thousands, all that's left today are a few relics and an old chimney.
Te Aroha is a delight and it made a nice change from the places we usually flock to for holidays. And it's not just me waxing lyrical about the place - Te Aroha was recently named Best Big Little Town in New Zealand at Fieldays for the third year running. When you visit, you'll understand why.


Need to know
• YHA Te Aroha: 2 Miro St, Te Aroha. Ph (07) 884 8739. yha.co.nz Outdoor Adventure and Cycle Hire: 176a Whitaker St, Te Aroha. outdooradventure.co.nz
• Bosson House Caterers: bossonhouse@gmail.com or (07) 884 7220.
• Te Aroha Mineral Spas
• Te Aroha Leisure Pools
• For information on the walks visit doc.govt.nz
• The Kuga


• Elisabeth Easther and her whanau were guests of YHA and the i-Site Te Aroha.