Mirages are not just seen in the desert, as Justine Tyerman discovers.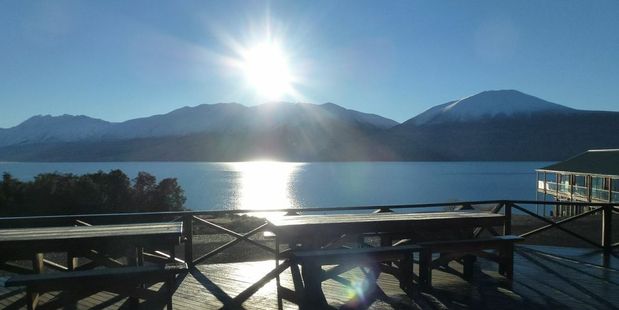 A squat little A-Frame hut shimmers in the distance.
"You look as though you have seen a mirage," a fellow skier says to me, as I squint across the dazzling white expanse at the shape in the distance.
Maybe the snowy white terrain has the same effect as sand in the desert and plays tricks with your eyes.
But as I ski closer, I discover people lounging on deck chairs in the snow, drinking mulled wine, schnapps and beer, outside a tiny bar on skids overlooking Lake Tekapo on a fresh-snow day so clear and sharp and bright it makes my eyes water even with my goggles on.

I ski to the window and impulsively order a schnapps, re-enacting a romantic memory of a ski holiday in Austria in my younger days when our instructor/guide insisted we partake of the local brew in a quaint little mountain bar to warm up before braving the sub-zero temperatures outside.
I rationalise it is well nigh impossible to come to grief on Roundhill's incredibly gentle slopes and I attempt to skol my schnapps - so much for the memory.
It is disgusting, and I instantly hand it over to the nearest young male snowboarder who gives me a quizzical look, but doesn't waste any time downing the stuff in case I change my mind.

In hindsight, I suspect the schnapps we were drinking back then was seriously diluted with fruit juice because I seem to recall a pleasant peachy flavour - not cleaning fluid. And no one skied into trees or was worse for wear after a schnapps session long ago in the Tyrol.
We have run away from Wanaka's crowded slopes to ski the smaller fields in the MacKenzie High Country, and are richly rewarded with fresh powder, cloudless skies and no queues. Roundhill Ski Field is just as the name suggests - a mound with no cliffs, drop-offs or craggy peaks, and little chance of getting up too much speed.
The main slopes are no challenge to anyone beyond the snow-plough stage but it is the most picturesque of skifields, looking towards the beautiful Godley Valley to the right, Tekapo township 32 kilometres to the left and straight ahead, beyond the turquoise-blue lake, to Aoraki Mt Cook.

The field also boasts the longest, steepest rope tow in the world and Australasia's biggest vertical drop (783 metres). The last time I used a nutcracker was in the pre-chairlift days at Coronet Peak when it was a sign of great prestige to own a rope tow belt - it's still in the attic somewhere - but I decide to give it a miss in favour of drinking in the view and a glühwein at the "mirage" while my husband tackles the tow.
We ski all afternoon until the shadows are long, and loath to leave the mountains, we spend the night 123 kilometres down the road at Lake Ohau Lodge.
When we arrive, rosy-cheeked after a day in the alpine sun, we are beckoned by another mirage - the winemaker from Terra Sancta at Bannockburn is pouring generous free tastings of Mysterious Diggings Pinot Noir and other delights to a bunch of animated après-skiers who are sprawled about the lounge in beanbags. We eagerly join the merriment and gaze out the huge picture windows as the sunset paints the snowy Ben Ohau Range pink and gold.

Just when we think things can't get much better, a delicious three-course dinner is served beside an open fire, roaring away in the huge old stone fireplace dating back to when Sir Harry Wigley established the lodge in 1951.

Early next morning, with the landscape sparkling under a thick layer of frost, we soak in a hot spa pool on the lodge deck overlooking Lake Ohau as the sun rises. After a hearty skiers' breakfast, we drive 20 minutes up the road to Ohau Snow Fields, high above the lake.

We are two of only seven skiers on the mountain before the rush of 30 or so hit the slopes, and what Ohau lacks in breadth of skiable terrain, it makes up for in snow quality and the sheer number of runs we have on uncluttered slopes. A few keen souls are hiking the ridge above the double chairlift to make first tracks in the powder, and a pair of hardy ski trekkers are heading off to an alpine hut in the next valley.
Skiing Ohau, like Roundhill, is as much about the scenic experience as the skiing itself. To stand at the top of an empty slope with pristine untouched snow and no need to plot a course to avoid maniac snow boarders, kamikaze skiers and unpredictable learners is a rare treat. And the view of Lake Ohau and surrounding mountains is mesmerising, all the more so because of the peace and solitude.
IF YOU GO
When you feel the need to escape the madding crowds in Queenstown and Wanaka, head on up SH8 to Lake Ohau Lodge: 220km from Queenstown, 155km from Wanaka; 275km from Dunedin and 320km from Christchurch. The lodge is warm, comfortable and has stunning views of Lake Ohau, Glen Mary Glacier, Aoraki Mt Cook and the Ben Ohau Range. Facilities include a restaurant, bar, games room, spa pools and drying room. The lodge offers five levels of accommodation and a variety of packages including dinner, bed and breakfast and a special lift pass rate for house guests. The convenience of being 20 minutes' drive to the ski area is hard to beat.
Ohau Snow Fields has a double chairlift, a platter and learners' snow mat.
Tekapo is a scenic 91km from Lake Ohau Lodge and Roundhill Ski Field is a further 31km along the side of beautiful Lake Tekapo. Roundhill has two T-bars - and that formidable rope tow. Lake Tekapo township has a wide range of accommodation ranging from budget to luxurious, numerous restaurants and a host of tourist great activities.
- nzherald.co.nz