Andy Pickering finds action and relaxation aplenty at Coromandel's Whitianga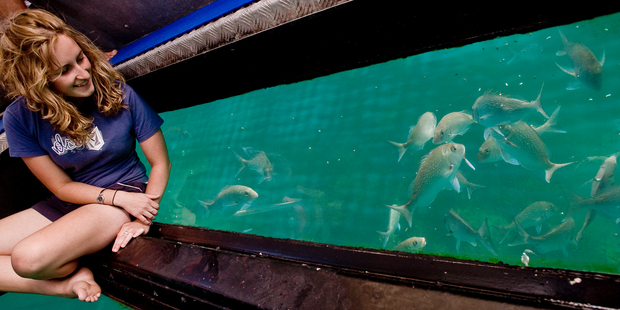 As parents of a very busy 2-year-old, romantic weekend escapes are few and far between. But when the grandparents offered to snaffle our little boy for a weekend adventure of his own, we thought we'd see what the Coromandel has to offer for a romantic winter getaway.
Jerry Clayton BMW supplied us with a car for the road trip. Conscious of the Coromandel's pristine natural environment, we selected the BMW ActiveHybrid, effectively a BMW 535i with an environmentally conscious green engine.
Late Friday afternoon we left Auckland, chewing through the motorway miles with ridiculous ease. Invigorated from the picturesque drive we arrived in Whitianga a little over two hours later.
We stayed at Oceans Resort, a two-minute walk from the centre of Whitianga, and just over the road from Buffalo Beach. Situated on a spacious resort-style estate, the complex offers self-contained apartments with as much, or as little service as you want provided by the charming hosts.
Oceans Resort is next door to Whitianga's famous geothermal hot pools, The Lost Spring. In a case of spectacularly bad timing, The Lost Spring was closed for maintenance the weekend we visited, but I've been there before and can confirm it is a must visit, even more so during the cold winter months.
Determined to spend an hour in a hot pool, we did the next best thing, and drove 40 minutes south to Hot Water Beach. This area sits on two geothermal fissures that emit a constant stream of volcanically heated water that can reach temperatures of 64C. In summer the beach is constantly busy, but for those daring enough in winter, Hot Water Beach is the perfect way to spend a romantic afternoon.
We timed our arrival at Hot Water Beach to within an hour either side of low tide. Steady rain was falling and besides two other families, we had the beach to ourselves. It only took five minutes to dig a hole with our spades, and then bliss! We sat outside under the moody, rainy sky in our own personal hot pool. It doesn't get much more romantic than that.
Famished from our beach exertions, we were grateful for our dinner reservation at Salt Restaurant, the closest thing Whitianga has to fine dining. An open fire roared at one end of the dining room, as we settled in with a couple of expertly made cocktails and toasted our good fortune. A near-faultless parade of dishes followed; beer-battered oysters, a sublime pumpkin and goats' curd ravioli, spiced free-range pork belly, and snapper with crispy squid. A shared brulee topped off an exquisite dining experience that was the equal of many of Auckland's better restaurants.
The next morning we opted for a trip on Whitianga's Glass-Bottom Boat to Cathedral Cove. Two Aussie tourists joined us and skipper Scott Mitchell. As we gently trundled out of the harbour the Aussies asked if we were going snorkelling. "No," we laughed, thinking they were joking. They weren't. After a tour through the heart-stoppingly beautiful rock formations in and around Cathedral Cove, we powered out to the Te Whanganui-A-Hei (Cathedral Cove) Marine Reserve.
As a protected ecosytem, the marine reserve is teeming with marine life, and through the glass bottom of our boat, only 50m from the shore, the dominant species was snapper. The Aussies quickly donned the supplied wetsuits and jumped overboard for a 15-minute snorkel.
Back on dry land, we set course for Stargazers, a luxury B&B, with on-site astronomy dome, hosted by husband and wife team Alastair and Harriette. Alastair is a retired geologist who has turned a lifelong passion for astronomy into his dream business. Regrettably, the rain had set in, so we weren't able to do any star gazing, but Alastair gave us a tour of the stunning facilities.
The Stargazers tour, just 15 minutes out of Whitianga, it's the perfect late-night romantic adventure for starry-eyed couples.
Early the next day, we began a leisurely drive back to Auckland. Is the Coromandel the perfect destination for a romantic weekend away?
Yes it is. And a darn sight cheaper than Rarotonga.
• Andy Pickering and partner travelled courtesy of Destination Coromandel. Begin your road trip at thecoromandel.com or visit facebook.com to win one of six trips on offer.