Justine Tyerman meets an all-star cast on the Milford Track.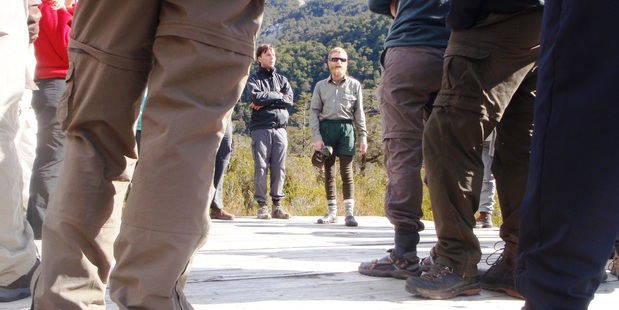 We have come across the hermit-like folk who inhabit the DOC rangers' huts before on our great walks but on the Milford Track, traversed by 14,000 people every year, the conservation rangers are an all-star cast. They are a breed apart, hugely knowledgeable, resourceful, fiercely protective of the natural environment, and very funny.
On our first night on the Milford we met Peter Jackson, the red-bearded ranger at Clinton Hut. Peter greeted us in very short green shorts over a pair of baggy long johns, protection against the sand flies, he said. Fresh from our first day's tramp - a mere hour and a half from Glade Wharf - we eagerly joined his nature walk which covered everything from wetlands, trees, plants, birds, animals and insects to glaciation, geology, astronomy and reproduction in sandflies. Only the female attacks human beings, using our blood to aid in reproduction, he explained. Judging from the collection of purple-red spots on my lower legs, I alone must have fostered the birth of at least several hundred ankle-biters.
During his equally informative talk that evening, "Encyclopeter", as I decided to call him, quietly rattled off botanical and Maori names for everything seen and unseen.
He produced a stoat (I think it was dead) from his pocket to illustrate the terrible danger such predators pose to our native birds and the importance of the war being waged against them.
He also showed us the devices used to trap stoats, rats and possums in national parks and said predator numbers were just starting to come down, thanks to the efforts of our DOC warriors.
After dinner, Peter took us for a walk in the pitch dark (no torches allowed) to view a colony of glow worms and learn about their life cycle. They turn into cannibals if they get too close to each other so tend to stay tucked up in their own glow caves. Later that evening, we lay on our backs on the helipad under a wondrous canopy of stars and listened to Peter talk about the planets, stars and galaxies which he identified with an extremely impressive laser pointer. An unforgettable experience, and one of only 10 or 12 a year with such clear, moonless conditions.
When I chatted to him later, he said, "The night sky walk is a wonderful opportunity to awaken people to the sheer scale of the universe and how puny and insignificant we are in relation to it all. The idea that even with modern space technology it would probably take an estimated 70,000 years to reach Alpha Centauri, our second closest star after the sun, should give us all a wake-up call as to why we really do need to start learning how to tread very gently upon this precious planet. There isn't anywhere else to go once life on this planet is destroyed, which is happening at an ever-accelerating rate.
"Modern economics desperately needs to change its philosophy from short-term economic profit for a few to the long-term survival of the environment and its inhabitants now!
"But unfortunately, as the environment keeps reminding us, business and political leaders - too enmeshed in the present dinosaur economic system - are leaving it too late to heed the call.
"If I can sow a few seeds to open visitors' minds and senses to the preciousness of this environment, it is all worth the effort - maybe even a few, given suitable conditions, will germinate!"
I think he deserves a knighthood too.
At Mintaro Hut, we were entertained by Ranger Ed Waite, a high-energy performer who did a sort of solo line dance while he conducted a quiz, complete with props, about the flora and fauna Peter had told us about the previous night. The Germans and Israelis were top of the class, winning most of the prizes, chunks of freshly-baked banana cake. Ed had us in fits of laughter before taking us for a dusk stroll to Lake Mintaro in search of the rare blue duck or whio. It was another glorious warm, starry evening but the whio was nowhere to be seen. Ed loves the New Zealand bush, the mountains and the wildlife - that's why he's a ranger.
"On a selfish level I love having a job that enables me to hang out in these special places every day, not just at the weekends, which I usually do as well," he said.
"Also I get a huge amount of satisfaction out of contributing to the management and protection of our special places and helping other people get the most out of their time there."
I later discovered Ed is a passionate ornithologist with three degrees including a BSc in ecology, MSc in zoology, and a PhD in ecology.
He left such an impression on us, we named the untagged mountain behind Mintaro Hut, Dr Ed.
We were all so exhausted after the seven-hour ascent and descent of Mackinnon Pass, Ranger Shelley Inglis at Dumpling Hut would have got off lightly in her duties had it not been census day. She had to distribute forms to 40 bemused Israelis, Americans, Fins, Irish, South Africans, Japanese, British, Poles, Austrians, Germans, Australians, a pair from the United Arab Emirates and our Kiwi quintet and ensure they were all properly filled. We took great glee in recording our location on the form that evening, the coolest place we are ever likely to be on census night.
Conservation Rangers are, by definition, pretty fired up about threats to our endangered wildlife. But with the Department of Conservation restructuring again, the risk is that the rangers themselves will become an endangered or even extinct species.
I am a huge fan of these men and women who maintain the tracks and huts, look after our precious wildlife, share their wealth of knowledge, rescue stranded trampers, and make life and death judgement calls on the safety of the tracks in flood, snow, avalanche and rockfall conditions.
One day I fear we might walk into a DOC hut to be greeted by a recorded message and the all-important weather forecast will flash up on a solar-powered screen. Our rangers will be just a treasured memory - like many other species which have ceased to be.

* The Milford Track is a spectacular four-day, three-night 53.5km walk. DOC manages three huts with shared facilities.
- nzherald.co.nz