Elisabeth Easther ventures into deepest King Country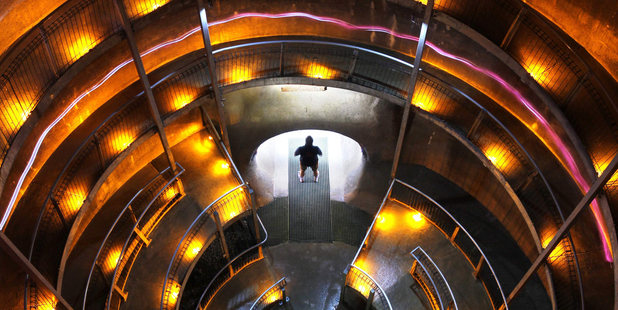 Origin of name: Maori for "stream that flows into the hole in the ground".
Population: In the village, fewer than 300, with an estimated 9500 in the wider region.
Where is it: In the north King Country, 12km northwest of Te Kuiti, 193km from Auckland, and about 40 minutes' drive from Te Awamutu.
Town slogan: There isn't one, but there should be.
Town mascot: The glow-worm.
Main employer: Tourism and farming, mostly sheep.
Source of pride: Locals just love taking tourists to some of the best caving in the country and being kaitiaki, (custodians) of the caves.
Town competition: Waitomo Sports Day. Classic Kiwiana: steer riding, sheep shearing, wood chopping and, the more unusual, inner-tube sumo wrestling.
Best place to take the kids: The Ruakuri Cave Tour is a beauty, accessible to all, even pushchairs and wheelchairs. Or, if the kids are over 12, take them on The Black Labyrinth.
Best place to get a drink: It was Curly's Bar before it burned down, and now locals wet their whistles at The General Store, The Waitomo Hotel and the Kiwi Packer.
Best food: Huhu, you won't get better grub anywhere. Seriously. Three years running they've won Beef & Lamb Excellence Awards.
Most famous locals: Chief Tanetinorau, with Fred Mace in 1887, discovered the caves. Also Colin "Pine Tree" Meads - technically he's from Te Kuiti, but Waitomo likes to claim him.
Best flat white: The Long Black Cafe at the Black Water Rafting emporium, lovely rural outlook. And Huhu, too.
Best local websites: waitomocaves.com. waitomo.org.nz. waitomo.com.
Best museum: The i-Site on Waitomo Caves Rd is more than just an information centre, italso has amazing exhibits, photos, short films, even a moa skeleton.
Best walk: There are walks galore. Three of the best are Ruakuri Walk, Mangapohue Natural Bridge and Marokopa Falls, all good for stretching the legs. The DoC website - doc.govt.nz - has all the guff.
Best view: Haggis Look Out, 9.5km out of town heading towards Mangapohue. Go see for yourself.
Best playground: Straight in front of the i-site, and there's also a big field there for letting off steam.
Here for a short time: The Waitomo Glow Worm Cave, it's the quickest trip and you'll see the most worms. Or if you don't want to spend money, combine the i-site and the Ruakuri Natural Bridge walk.
Best-kept secret: The Marakopa Falls, 50m of serious plunging water. So no swimming, OK?
Best shop: The Glow Worm Cave Store under the big canopy arch has more than just tourist trinkets. There's also every kind of Kiwiana, beautiful objects and art.
Kookiest hotel: The Waitomo Hotel, which looks amazing, has been described online as a cross between Fawlty Towers and the hotel in The Shining.
Best swim: Any of the black water rafting trips.
Who'd have thought? The Nitro Circus motorcycle riders did the Black Abyss trip recently and said it was the most adventurous thing they'd ever done in their lives.
Wildest wildlife: The NZ falcon, or karearea. There's a cosy pair in Ruakuri Reserve. If you're lucky you may also see Peripatus, a living fossil that's been about for 400 million years, a cross between a centipede and a worm. Utterly nutty, they sneak up on insects they want to eat, shoot a jet of spit on it, cling to it and eat it. For less wild wildlife, Altura Gardens & Wildlife Park has ducks, emus, deer, chooks, goats, rabbits, donkeys, mini horses, blue-tongue lizards and runs horse treks.
When a local has visitors from abroad staying, what do they take them to do? All of the above.
BEST REASON TO STOP
The Caves, and there are so many of them, entire networks beneath the ground, and there are so many different ways to experience them.
Thank you to Angus Stubbs, operations supervisor at The Legendary Black Water Rafting Company, for shining a little light on Waitomo's wonders.