Nicky Park heads up North to embrace her inner boatie, working for a day on a maxi-yacht.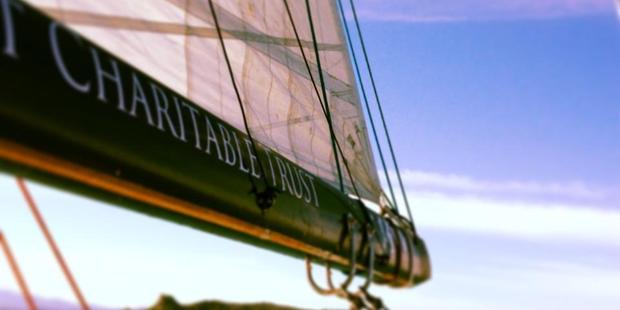 One of my New Year's Resolutions was to be more outdoorsy. Truth be told, I make the same pact every year. But setting up base in New Zealand (for now), there's no excuse for failing to take advantage of the mountains to climb, rivers to paddle and beaches to splash in.
This time, my quest for the Great Outdoors took me to Northland. It was a hefty four-hour drive from Auckland to Paihia, but the Man-Friend and I managed to make it to town just in time to pick up a cheeky bottle of pinor noir for a nightcap at our bargain-booked motel.
I was set on an early night. I needed my nautical-self to be fully charged for a day on the high seas.
Check out some of the snaps from the adventure here.
The day began with a below-average breakfast (soggy scrambled eggs, stale multi-grain bread and grumpy service) at the only eatery we could find open near the wharf at 7.30am on Saturday morning. However, I easily put my unsatisfied belly to the side - the sun was shining, the clouds had lifted, and the last weekend of summer was turning out to be pearler.

A short ferry ride took us over to Russell to board the very impressive maxi-yacht, Lion New Zealand. The 80-ft beauty was built especially for Sir Peter Blake, who brought home the America's Cup for this country, not once, but TWICE.
Pretty quickly I was feeling confident with all the boating chat - port, stern, mast ... it was all rolling off my tongue. So we hit the high seas (it was actually very calm, but that doesn't sound as ruggedly outdoorsy - which is what I was going for, remember?). The cool thing about this sailing experience was that we could get involved (or not, if you just wanted to chill out on the front of the boat). My Man-Friend likes to get amongst it, so every time five people were called to get "grinding", up we went, hands on, pumping our arms away to make ropes squeal, sails flap and something happens (I think to the direction of the boat).
After all the work on biceps and triceps we were looking forward to the midday break. We pulled in to a small cove and hopped ashore for some r'n'r. We walked to the top of a hill for some of the best views of the bay, splashed about in the warm, clear waters and laid on the smooth, pebbly shores. It was blissfull. We'd left the hustle and bustle of our lives in Auckland less than 24 hours earlier, but it felt like we were so far away. There's something about the sea that does that to you.
Back on board, the super-friendly (and smart) three-person crew dished up quite the feed. There were about 14 of us on board that day. The boat can hold up to 30 people comfortably, but our small tourist group meant we could mix and mingle over salads and sandwiches. We chilled out with a couple of cold cans of beer and boasted to the internationals about the highlights and hidden gems of the North Island.

I'm not the first sailing novice to hop take a ride with this crew. They tell us they've been asked heaps of stupid questions.
"What's the stupidest question you've been asked," I quiz.
"Probably that one," my kind Man-Friend chimes in.
Once the group giggling dies down, the skipper makes me feel better by telling us about a girl who asked how long sharks can hold their breath for, and other passenger who wanted to know if you can swim under the islands.
Oh dear.
As we coast back to the mainland, everyone takes a turn behind the steering wheel - this is, after all, the money-shot that we're after, the one that will become a Facebook profile picture for most of the people on board.
Sun-kissed and salty, I'm all tuckered out from my seven hours at sea. I've got that happy/dozy feeling, the one you get after a day of outdoor activities. I love that feeling.
Follow Nicky Park on Twitter and Instagram
- nzherald.co.nz