Warmer weather brings a new energy for experiencing the great outdoors. Great Lake Taupo will not disappoint, writes Donna Jarden.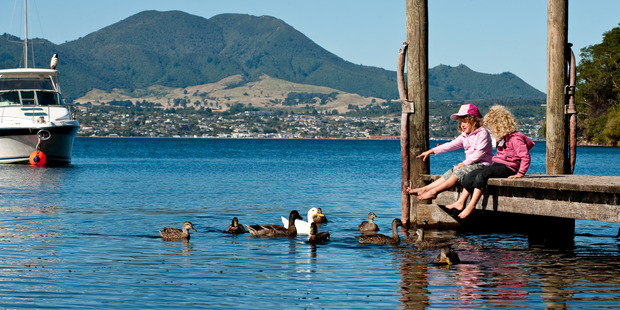 CYCLING
If you haven't had enough time on two wheels, you can head out on Sunday to some 200km of mountain biking trails - from those hugging clifftops overlooking the mighty Huka Falls, to gentle boardwalks beside Lake Taupo. The lake, river and mountain vistas make staying on your bike just that much harder - there are plenty of seats where you can stop and enjoy a picnic or simply take in the scenery.
The Tongariro River Loop makes a circuit of Turangi township to the Red Hut swing bridge and Tongariro National Trout Centre. In spring enjoy half-day mountain bike hire from Tongariro River Rafting and entry into the Trout Centre for $27, saving $18. The loop track is 9.6km long and is a gentle gradient suitable for riders of all ages.
W2K (Whakaipo Bay to Kawakawa Bay), is the start of the Great Lake Trail. This pumice track winds in and out of the bush along the shores of Lake Taupo, passing Kinloch and on to Kawakawa Bay, accessible only by boat. On completion, the trail will be 93km long, heading south along the western side of the lake.
Great Lake Shuttles provides transport to W2K and the other trails in the region including Wairakei Forest or Craters of the Moon, Huka Falls or Waikato River Trails, plus full or half-day bike hire.
DINING
If apres-bike is more your thing, Cafe L'Arte, just past Acacia Bay, is perfect. It has an on-site artist with a passion for mosaics and there is plenty of room for you to park your bike.
In Taupo's town centre The Vine Eatery fuses in-season produce and international tastes in a menu of shared plates. It is designed for communal dining, with dishes from Spain, France, Greece and the Middle East brought to the table in a relaxed style. You can match your food with one of thousands of bottles of wine from the adjoining Scenic Cellars.
One of the newest places to eat in Taupo is The French Cafe on Heuheu St. With waiters wearing berets and a menu featuring pastries, baguettes, crepes and even snails, you will feel like you have arrived in Paris.
The Merchant is the largest wine and gourmet food store in the central North Island, stocking boutique wine, beer and spirits and a good selection of quality local and imported gourmet food. You'll find everything from olives, small-goods, oils and dressings, salmon, pasta and sauces to a wide range of New Zealand and European cheese you can taste before you buy.
Taupo Beef originates from three farms on the northwestern side of the lake. The farms are all operating under a catchment-wide initiative to protect the water quality of Lake Taupo for future generations. The grass-fed beef leaves only the lightest environmental footprint on the lake and is of exceptional quality. Aged for a minimum of four weeks, it is served in some of the region's top restaurants, including Huka Lodge, Bistro Lago at Hilton Lake Taupo, Plateau Restaurant and Bar, Waterside Restaurant, Bayview Wairakei Resort Hotel and Fine Fettle Cafe. Or you can buy it from M21 Meats in Taupo.
THINGS TO DO
No visit to Taupo would be complete without taking in the majestic Huka Falls. It doesn't seem to matter how many times you see the aqua-coloured water tumbling 220,000 litres per second down into the Waikato River - it never fails to captivate.
Rest a while at the base of this spectacular waterfall on board the Hukafalls River Cruise, with trips departing daily from Aratiatia at 10.30am, 12.30pm and 2.30pm.
The Rotary Walkway is a picturesque track for walking or biking which follows the river through to Spa Park, and a natural mineral hot pool awaits to soak tired feet.
Further up the river in the other direction is Rapids Jet. This thrilling ride in a V8 jetboat powers you up and down thrilling white water rapids for a 35-minute action packed ride. Locals tip - bring a change of clothes - the driver loves to dampen down fancy hair-dos.
If you like the outdoors, you'll love Tongariro National Park and the stunning mountains of Ruapehu, Tongariro and Ngauruhoe. Offering an abundance of adventure activities set to one of the most awe-inspiring backdrops imaginable, this area is utterly magical in spring.
With part of the Tongariro Alpine Crossing closed, it's a perfect time to try the Ruapehu Crater Lake Climb. Adrift Outdoor Guided Adventures supply all gear and provide commentary into the area's cultural and geographical history.
SPA TREATMENTS
For a soothing after-race soak, bathe in the therapeutic waters of the Waiora Valley at Wairakei Terraces and Thermal Health Spa.
The pools are of varying temperatures, prettily positioned at the bottom of silica terraces and a waterfall. After your soak, treat yourself to a traditional Maori massage, healing the mind, body and soul.
Non-riders with time to kill might like a beauty treatment so try Skin Matters. Start with a wellness consultation for your skin, looking from the inside out for a facials or non-surgical treatments.
If you're visiting with a family, you should check out the Living Waters spa at Taupo De Bretts. With the kids and blokes entertained in the thermal hot pools, escape for a bit of me-time. If you can't choose between a facial or massage, book in for a "Fassage". This unique treatment starts with a back scrub and massage complete with arm and hand massage, a customised facial:75 minutes of bliss for $125.
SHOPPING
It just wouldn't be a weekend away without some retail therapy. Visitors love that Taupo's specialty shops are in inviting pedestrian precincts - no malls or acres of carparks.
Clever Hands is a specialty quilting supply store that will inspire even the most un-crafty of people to sew. They specialise in Kaffe Fassett, Amy Butler, Jinny Beyer, Valori Wells and Robyn Pandolph designs and offer advice and technical expertise on everything from basic sewing technique to fun weekend projects.
They can sign you up for the Quilting Symposium being held in Great Lake Taupo from July 18-23 next year when thousands of crafters (yes, even more than cyclists) turn up for workshops from tutors from America, Britain, Africa, Australia and New Zealand in traditional patchwork with a twist, new techniques and the latest tools of the trade over five days.
Need plants hardy enough to survive in the harshest alpine environment? Pay a visit to Taupo Native Plant Nursery.
The open-air store supplies plants for landscaping, ecological restoration and home gardens at wholesale prices.
To complement the extensive range of native plants, they also offer a selection of exotic species, from ornamental maples and pin oaks to fast growing shelter belt and firewood trees such as eucalyptus, cypress and tree lucerne.
For a fashion fix either online or in the flesh you must visit Taupo's Hi Fashion. It specialises in pieces from contemporary New Zealand designers, changing with every season, with the sort of personal styling and friendly customer care you don't often find in a big city.
And foodies in the know always love to dig around at Chef's Complements on Gascoigne St. The refurbished store is bright red and black, catering for chefs of all experience levels with a dizzying range of gadgets, implements and accessories to suit every budget. Just a step in the door will inspire you to create exciting food.
TAKING TIME OUT IN AND AROUND TAUPO
Hayden Dickason
Sponsorship and communications director. Contact Lake Taupo Cycle Challenge
My secret neighbourhood cafe:
L'Arte Cafe & Gallery, Acacia Bay, because it has a great food selection, good coffee, cool surroundings (with mosaic outdoor tables, lounge settings) and a gallery. 255 Mapara Rd, Acacia Bay.
A quiet picnic spot out of town:
I go to the lakefront beach at Kinloch. Just 15 minutes' drive from Taupo's CBD, in an awesome crescent-shaped bay, with great boat-launching facilities. The general store comes complete with takeaway food and good old Kiwi icecreams, very handy for a summer evening meal on the beach.
My favourite walk is:
The Huka Falls Spa Park Walk. It's pretty easy walking and you get to see heaps of what the region has on offer. It takes a couple of hours but is well worth it. See Taupo's bungy, peeps of the famous Huka Lodge, the Waikato River and of course the really cool Huka Falls. Start from town (off Spa Rd) or from the Huka Falls lookout carpark. Also, the Great Lake Walkway, that runs the whole of the Taupo township lakefront from the town marina. It's an easy, paved walk right around Wharewaka Point. The lakefront beach has awesome views over to the mountains (and usually has a coffee vendor), there's Hot Water Beach, where thermal water runs directly into the lake then wind around Two Mile Bay and on to Wharewaka Point, where you can turn around. It's a very cool walk and sums up why the scenery in New Zealand is so sought-after by travellers. Maybe suss out a fishing charter for later on, too.
The best shop in town:
Lake Furnishings at 33 Heuheu St, because it has a wonderful choice of gifts at reasonable prices.
The best thing about living in Taupo:
The people, its community spirit, the best scenery in the country - and the trout, of course.
Lianne Fraser
Taupo-based writer and publicist
My secret neighbourhood cafe is:
Piccolo on Ruapehu St for morning meetings - fantastic coffee, fabulous staff, big tables for spreading out papers and we can stay for ages. Moving on to Eruption on Tamamutu St to sit in the midday sun and catch up with friends, and finally to Vine on Tuwharetoa St for late-afternoon meetings that meld into an early-evening glass of wine and tapas.
When I need a quiet picnic spot out of town, I go to:
Whakaipo Bay. About 7km west of Taupo, it is a beautiful horseshoe-shaped bay; someone can bring the boat around for a bit of waterskiing. There are DoC toilets, access to the W2K walking and biking track, and a short stroll out to Tahunatara Point is gorgeous.
My favourite walk (or gentle cycling route) is:
Along the Lion's Walk from Two Mile Bay to Wharewaka, next to the lake. There are kowhai trees, tui, plenty of places to stop and paddle and feed the ducks. There's a children's playground at Wharewaka and excellent barbecue facilities. From Wharewaka to Five Mile Bay, it's "Club Med" for dogs - they're allowed to be off the lead with plenty of opportunities to play fetch in the water and a great place to bike and walk.
The coolest kids' playground in town is:
Spa Park's flying fox, and from there it's not far to walk to Huka Falls for an icecream, stopping for a hot soak next to the Waikato River, en route.
The best shop in town is:
Impossible to only mention one. Taupo's boutique shopping precinct is one of this town's points of difference.
WHERE TO FIND
* L'Arte Cafe, Mapara Rd, Acacia Bay. Ph (07) 378 2962
* The Vine Eatery and Scenic Cellars, 37 Tuwharetoa St. Ph (07) 378 5704
* The French Cafe, 101 Heuheu St. Ph (07) 378 9664
* The Merchant, 114 Spa Rd. Ph (07) 378 4626
* Chef's Complements, 8 Gascoigne St. Ph (07) 377 4455
* Huka Falls River CruiseBook at Taupo i-SITE. Free call 0800 LAKE TAUPO (0800 525 382)
* Adrift Guided Outdoor Adventures Bookings. Ph (07) 892 2751 or GreatLakeTaupo.com
* Tongariro River Rafting, Atirau Rd, Turangi. Ph 0800 10 10 24
* Tongariro National Trout Centre, SH1, 4km south of Turangi. Ph (07) 386 8085
* Rapids Jet, Rapids Rd, Aratiatia, Taupo. Ph (07) 378 5828
* Hilton Lake Taupo, SH5 Napier/Taupo Highway. Ph (07) 378 7080
* Great Lake Shuttles info@greatlakeshuttles.co.nz Ph 021 656 424
* Wairakei Terraces & Thermal Health Spa, Wairakei Visitor Centre, SH1, Wairakei. Ph (07) 378 0913
* Skin Matters, 6 Motutaiko St. Ph (07) 378 6206
* Living Waters Spa at Taupo De Bretts, SH5 Napier/Taupo Highway. Ph (07) 377 2913
* Clever Hands, 32 Spa Rd. Ph (07) 376 8269 or
* Taupo Native Plant Nursery. 155 Centennial Drive. Ph (07) 378 5450
* Hi Fashion, 8 Heuheu St. Ph (07) 377 1348
* Suncourt Hotel, 14 Northcroft St. Ph (07) 378 8265
* Taupo Tandem Skydiving, Taupo Airport, 1105 Anzac Memorial Dr, Wharewaka, Taupo. Ph (07) 377 0428
* Taupo Bungy, 202 Spa Rd. Ph (07) 377 1135
Donna Jarden is a representative of Tourism Taupo.