Younger kids are bound to get a kick out of a rail ex+cursion, writes Alexia Santamaria.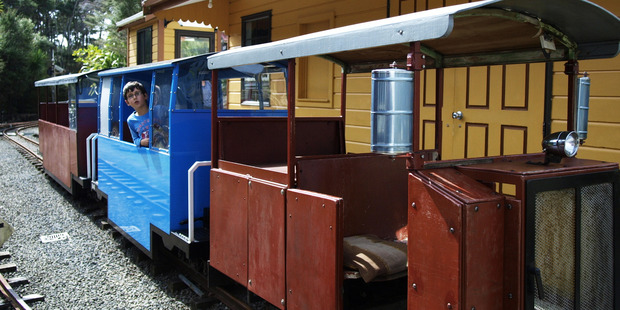 The mark of a good excursion is always in the post-event phone call to the grandparents and, judging by this one, our trip to Whangaparaoa Narrow Gauge Railway was a resounding success. "Grandma, we went on a train... and fed chickens... and rabbits ... and went on a trampoline... and saw donkeys and a pig ... and played with toy trains ... and went in a treehut ... and drove pedal cars... and went on an owl hunt!" was the breathless account.
Whangaparaoa Narrow Gauge Railway is a paradise for young kids. But perhaps not in the form you'd imagine. It's certainly not flash. But it is good, old-fashioned ramshackle fun, created by a man who loved trains as much as life itself.
When you pull up outside it doesn't look like much and on the scale of Auckland's major attractions it's not enormous, but for littlies there's a lot to do inside those gates. The major drawcard, of course, is the train. Built by the now-deceased Ted Pointon, a true train enthusiast who worked as Glenbrook Vintage Railway's key mechanical person for many years, this train is a gorgeous little open-sided three-carriage number, which carries 12 people at a time.
It does a 350m circuit: your entry fee gets you in the door to see everything and round the track three times. There are all the requisite tick-boxes of railway fun: a tunnel, a bridge and, usually, some people to wave at.
After we'd had our ride, we walked through the bush to the playground. The bush is not exactly expansive but to a three and six-year-old it was like the Heaphy Track. They were beyond excited when we went through "Owl Alley", a small loop path diverting slightly from the main track, dotted with over 20 owls made from terracotta, stone and wood and in all shapes and sizes. It doesn't get much better than going on an owl hunt in a "forest".
The playground had a trampoline, swings, slides and plenty of things to climb on. There is even a small shed with toy trains and foosball for wet weather play. Surrounding it were animals to feed. There were a few hysterical moments when the very savvy chickens spotted the familiar brown feedbags. These chooks aren't shy in trying to access the bag directly and our timid six-year-old was less than impressed. We moved swiftly on to the rabbits who, while equally forward, were much softer in their enthusiasm.
After consuming our picnic lunch and playing at length on the playground, we went back through another path in the bush, which led to an additional play area with a large wooden fire engine and a treehouse. There were preparations going on for a birthday party, and it was a truly magical setting for one.
The path led to Monty and Humphrey the donkeys and Pumpkin the pig and was a great vantage point for seeing the train go past up high on the viaduct (more mad waving at passengers from our kids). When the boys finally tired of this, we headed out via the carpark, where there were pedal cars to drive.
They say the devil's in the detail and that was truly the case at Whangaparaoa Narrow Gauge Railway. It wasn't huge or grandiose and possibly wouldn't appeal to older kids, but for our little guys it was an enchanted garden filled with all the most fun things in life. With an icecream and a play on the beach at Orewa on the way home, it was nothing short of a little boy's perfect day.
Further information: Whangaparaoa Narrow Gauge Railway. 400 Whangaparaoa Rd, Stanmore Bay, Hibiscus Coast. (09) 424 5018, rail.co.nz.