Waterfalls, a tramline and an exhilarating climb up a near-vertical staircase are all part of a Sunday walk for Danielle Wright in the Waitakere Ranges.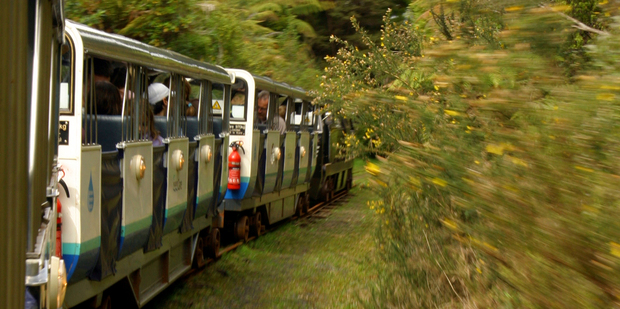 We head along bush tracks, past waterfalls worthy of much more than a fleeting glance and around the Upper Nihotupu Reservoir, chasing our children as they run as fast as they can to find out what's around the next corner.
Just as we near the Upper Nihotupu Dam, they hear the sound of Watercare's Rainforest Express and we're hustled over to take a look. We bypass the dam's viewing platform for now, which has the lonely figure of a man wearing a suit and clutching his black smartphone like a gun.
We're glad we're heading away from him and reach the bottom just in time to see half a dozen people huddled in a tiny train as it inches past us. A friendly Watercare worker encourages us to walk along the tramline to the dam, as long as we move over when the train comes past. Walking along the tracks, it's easy to contemplate what life was like back in the pioneering days. It's as if nothing has changed - the dramatic landscape and rickety track following the water pipeline is shrouded in a fine mist and very pretty, unless you look at the side of the track where the land slides straight down into the bush.
We hear the miniature train coming about 10 minutes before we have to move to one side and let it shunt past. We catch up with it again at the dam. The dam is impressive in its size and sheer vertical drop. Water gushes out of a pipe in a wall as we climb up the steep staircase to the top, everyone experiencing a bit of vertigo on the way.
We're told about the Nihotupu Dam and how much longer than expected it took to build. It experienced its fair share of hold-ups, including its main contractor William Langlands being killed in a freak accident during blasting for the tramline when a flying rock hit him from 100m away.
Heavy rain and flooding further hindered the progress, and World War I didn't help, causing a major shortage of men and materials. From the time tenders were called in 1915 to completion in 1923, it was a difficult birth.
Today, though, the dam stands proud and, when we reach the top, find it is the backdrop to many photographs by the train passengers. We take our pictures and head back to the carpark, although this time, instead of running after our children, we're carrying them on our backs with red noses from the cold - it's the perfect Sunday walk to tire out the kids and let the parents get some exercise, too.
TRAVELLER'S TIPS
Upper Nihotupu Walk:
* From Scenic Drive head on to Piha Rd and park at the first carpark you come to. The walk is 2.6km long and takes about 45 minutes.
* Stop at Elevation Cafe for Italian pizzas, a glass of wine or a hot chocolate. 473 Scenic Drive.
* To book on Watercare's Rainforest Express ph (09) 302 8028. See the website for a schedule of trips.
Bookings office closed on weekends so plan your trip in advance, fares from $12 a child and $25 an adult.