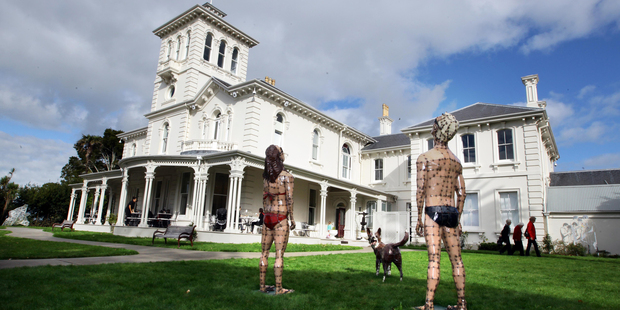 If you ever had any fear that birds dislike an urban environment, a walk through Epsom will dispel that notion. In one of Auckland's leafiest suburbs on a beautiful autumn morning, the trees were alive with feathered residents.
We leave from the carpark at the historic Pah Homestead in Monte Cecilia Park, do a circuit of One Tree Hill and return to the homestead for a coffee and a look at what's new in the TSB Wallace Arts Centre.
It isn't long before I notice the blindingly obvious. Birds are everywhere. I decide to count the species I see, and before we have even left Monte Cecilia Park a pair of swallows have swooped across our path, and a red-breasted something I cannot identify takes off from a fence post to the puriri on the far corner.
We cross Mt Albert Rd and turn left into Pah Rd. A pair of mynah birds join my bird list. I try to admire mynah, they pair for life, they're clever and resourceful, but somehow they lack charm.
Turning right up a side road we are now in Epsom proper. We pass along the walkway that connects Crown St with Chandler Ave and three minutes along Chandler and left into Manukau Rd by the Royal Oak Mall we are moments away from the entrance to One Tree Hill Domain.
Up the hill and along the avenue of Cornwall Park, bird watching, or counting, begins in earnest. I see tui in the big trees and blackbird and thrush scavenging below. Sparrows hang round the picnic tables and the chooks that roam the park are as pretty as ever.
By the time we have reached the top of One Tree Hill there are only a few seagulls to be seen, scavenging in the bins, and it's coffee time.
Pah Homestead seems like a long way away and I concentrate on looking forward to breakfast as we trek back. Sure enough, the coffee is perfect, my pastrami pide is too. I even find a bluebird broach for my daughter in the gift shop.
IF YOU GO
TSB Wallace Arts Centre: 72 Hillsborough Rd, Hillsborough, ph 09 639 2010, open Sat-Sun 10am-5pm. Tues-Fri 10am-3pm.
Further information: This easy walk takes about 2 1/2 hours.