Danielle Wright takes her train-mad son on the historic Kingston Flyer for a unique history lesson.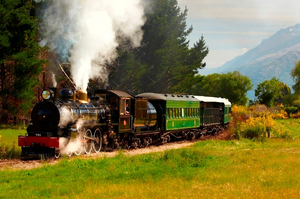 "Kingston was at the end of the railway line, just a pub and a few houses tossed down like knucklebones at the edge of a lake," wrote Gavin Bishop in Piano Rock, a 1950s childhood.
There are more streets now, but not much seems to have changed here as we turn right at the brightly painted pink crib with red roses climbing up a power pole in front, and into the tiny town of Kingston, on the edge of Lake Wakatipu.
There is still just a pub (now the Kingston Flyer Cafe), a railway line and only a few small houses after a 40-minute drive from Queenstown around Devil's Staircase, named for its notoriously dangerous twists and turns, now smooth and less twisted and an easy trip past many clusters of keen cyclists.
After reading Bishop's book, my son and I were both interested in the Kingston Flyer because it seemed to signal exciting things, like a new baby brother arriving. It's also special for us to see the daunting Piano Rock, so mysterious in the book, and which the Kingston Flyer sits so neatly under.
Kingston's European history began in 1856 when John Chubbin, John Morrison and Malcolm McFarlane stopped here. Morrison lit his pipe and idly threw the match down at his feet, creating "the great fire".
The men's horses had to be dragged into the lake's glacial waters up to their necks and thousands of birds fled, many, such as native quails, drowning because of Morrison's carelessness.
What the town does have to lift everyone's spirits though is a rare and quite "beautiful shiny, black steam engine called the Kingston Flyer".
The train known as The Flyer serviced the local communities from the 1890s to the 1950s and was restored in the 1970s. It sat idle for a couple of years until David Bryce, a businessman and winemaker from Marlborough, bought the train on Trade Me and got it running again.
"He never had a train set when he was a child; now he does," says Kingston Flyer business development manager Liz McLean. She says Bryce bought the train impulsively after a health setback left him appreciating life's brevity and feeling like he was in a position to save the iconic train.
When Gavin Bishop was a boy, the Kingston Flyer would have transported people to town for shopping trips, as well as school children who were renowned for their naughty tricks - stealing hats and throwing them off the train was a favourite.
Now it's an affordable day-trip for tourists in Queenstown or on their way to Milford Sound and many people spend the day on the lake's edge having picnics and watching the train shunt out of the station twice a day over the summer months.
On the train, we sit inside the "birdcage" carriage, which is padded in black leather. The noise of the creaky wood sounds a bit like tiny fireworks being let off as we smell the coal, and view wildflowers and fields we're slowly chugging past.
A bull, as shiny and black as the train, stares us down as it stands alone under a Christmas-tree-shaped pine. It's still there for our return trip, not yet ready to charge at the train, its potential rival.
We stretch our legs and head to the guard's seat, where the iconic Crunchie bar advert was shot and the vintage suitcase once filled with chocolate bars now lies empty. At the small gift shop in Fairlight, passengers buy Crunchie bars remarking: "I could imagine horses riding next to us the whole way."
In Piano Rock, Bishop mentions one of the guards, Lofty, who sat on this seat and threw liquorice allsorts from his window.
Today, the guards still seem to have that sense of fun, eating ice creams and letting men scramble inside the driver's compartment to see how it all works. We're amazed to hear one man shovels coal for the 30-minute trip to Fairlight and back.
After a quick stop for photos and waves from cars stopping to catch a glimpse, we're back chugging through flat fields full of sheep and surrounded by mountains, one with a white snowy peak.
Most of the passengers stop for lunch at the Kingston Flyer Cafe, where the chef and manager have been brought in from Christchurch after the earthquake rendered them unemployed.
Good old-fashioned burgers, huge plates of fries and seafood chowder are on the menu alongside Kingston Flyer-branded wines, served today by Bryce's son on his first day on duty after university has finished.
Over lunch, we look at a log book where one passenger comments: "All that brass and copper, how proud you must be!" then adds: "How sad it must be for you to be the last of a long line of steam men as you represent history."
They are referring to train driver Russell Glendinning MBE, who first wanted to be a driver "as a small child swinging on the front gate beside a country line watching the train".
Glendinning has driven the Kingston Flyer for 40 years and has known Bryce for 30, which was one of the motivating factors behind the latter's decision to buy the steam train.
FURTHER INFORMATION
The Kingston Flyer departs at 10am and 1.30pm from Kingston and a door-to-door shuttle from Queenstown is available for an extra $20. Children under 5 are free, older children are $17.50 one-way and $22.50 return. Adults are $35 one-way and $45 return.
A 1st Class Experience is available in a private compartment for up to six guests - $160 for two people.
Check kingstonflyer.co.nz for events. For bookings and enquiries, call 0800 4 FLYER or (03) 248 8888.