Danielle Wright takes the road less travelled around the Waipu Coast.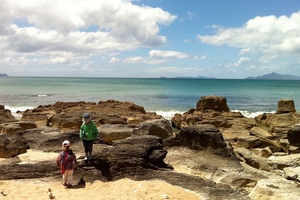 Through a kind of secret passageway on Cove Rd, local Waipu resident Alan McKenzie, who we assume is in his sixties, is ushering us with large wooden walking sticks through the bush behind residential homes and on to the recently opened Waipu coastal trail.
He has a can of orange spray paint, and a fast gait, we're having a hard time keeping up with him as he navigates scrub and launches himself over large tree stumps. Originally, this land would have been covered in kauri bush but today there are only four, very young, kauri here.
Nevertheless, the trail is exciting and our children can't quite believe their luck being able to head off the beaten track like this, dodging spiders and stopping only to hear a quick shake of the spray can to re-mark the track - it's as if we're being led by the world's oldest graffiti artist.
Native trees, silver fern and abundant flax provide the greenery at the beginning of the walk until we come through the bush to see the clear water and rocky outcrops fringed by pohutakawa.
Gannets skim the sparkling sea as it splashes against the shore. It's worth the scramble under and over things to stop and take in this life-affirming view.
Minimal disturbance to the landscape has been an important part of the trail and at all times it feels like we've discovered a secret trail rather than come across a public walkway. It's still very much as nature intended.
As we walk further along the track we see sedimentary limestone rocks, known to locals as the Pancake Rocks, identical to those found in Punakaiki in the South Island. That town built its tourism around its version; the ones we are looking upon have been tucked away for only a few locals to see. Finally they are given centre stage.
We have a break from walking and Alan tells us of the Scottish heritage in Waipu. He seems proud of both the past and of his part in the future of this trail. Almost 150 years ago, Scottish immigrants settled here, via Nova Scotia, as part of the Highland Clearances and walked past these same rocks on the trail - more to procure goods rather than for leisure, as it connected the township with the coastal beaches. But it had been lost to the public because of landowners' unwillingness to share their backyards.
Later, I read about a voyage home to Nova Scotia where the Kiwi Scots were shocked at the devastation they found due to the unforgiving winter conditions there and quickly retreated home to Waipu, no doubt with a heavy mix of guilt for those left behind and a feeling of luck on their arrival back to this beautiful stretch of coastline.
We carry on past rows of Queen Anne's Lace cleared down the middle for the kids to walk through. It makes a pretty distraction from the attention-seeking water views and later, a wooden swing chair in a neighbour's house beckons to be sat on - if only it wasn't just out of reach thanks to a hefty fence.
As we come out of the bush after two hours, we hear the sounds of stand-up paddle boarders at Waipu Cove Beach and children splashing at the water's edge. A cluster of three fishing boats form a triangle around what must be a good fishing area and the 50-year-old Bream Bay refinery peeks out of the horizon.
We cross a small tidal stream and a road to make it to the Cove Cafe for ice cream after all the hard work, about two hours of quite strenuous walking conditions. Alan's daughter joins us as and remarks: "He's not bad for 82." We're astounded.
Some locals call the trail the McKenzie Trail after Alan. I think that's what we will call it when we visit again, remembering the remarkable man who made it possible.