Donna McIntyre takes to the skies over Auckland for a new perspective.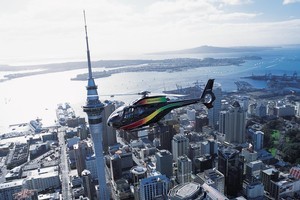 Viewing Auckland from the air brings on a mind shift. Everyday issues and problems shrink in importance as you feel your perspectives widening. It's the opposite of being too grounded, perhaps.
The city we live and work in looks impressive from up high; we're blessed with our harbours, beaches and parks and it's fun picking out streets, volcanic cones, workplaces, friends' houses ...
Auckland offers a good range of options to get you airborne, including wow-factor-delivering helicopter rides over the CBD or out to the west coast. Ardmore Airport is the base for nostalgic DC-3 flights and, even though the memory of the tragic balloon crash at Carterton is still fresh in our minds, there is also the option of early morning hot air ballooning.
For those seeking more hands-on and adventurous airborne experiences, consider hang-gliding and paragliding. And, if flying hooks you so much you want to make it a regular part of your life, there are always flying lessons.
Helicopter rides
It's hard to go past a helicopter ride for great views and a soaring feeling. Several companies offer scenic rides but, for my experience of hovering above our city, I am lucky enough to hitch a ride with Heletranz from Waiheke Island back to the helicopter base after they have dropped off some heli-diners at Cable Bay.
Heletranz is based in Albany, just 10 minutes from the CBD by car, but the company can arrange pickups for group bookings in Mechanics Bay.
Popular packages with Aucklanders are the 20-minute Auckland City Spectacular and the 36-minute West Coast Auckland Adventure.
Managing director and pilot Tony Monk, with 40-plus years' flying experience, puts you at ease immediately with his professional manner as he provides a commentary on points of interest.
His Auckland Spectacular trip leaves from the Albany heliport, heads south to the Chelsea Sugar Refinery giving views of the Harbour Bridge, the upper harbour and CBD landmarks. From there you head back towards Devonport, skimming the crater of Rangitoto before flying over Lake Pupuke, up the east coast beaches with their million-dollar homes and returning to the heliport.
The route on the longer flight to the west coast, marketed as the company's most visually spectacular flight, heads across the CBD then out to the Waitakeres, over the vineyards at Kumeu, the rugged coastline and wild surf beaches then heads inland to follow the harbour mouth to the city before heading out to Rangitoto and back to Albany.
Cost: Auckland City Spectacular $199 per person; West Coast Auckland Adventure $299 pp.
Contact: Heletranz
Ph: (09) 415 3550.
Classic DC-3 flights
For a chance to relive the glory days of flight travel, you can't beat the half-hour Auckland City Classic DC-3 Flight, which leaves Ardmore most Sunday mornings on the World War II aircraft privately owned by a group including current or former pilots.
Check-in is at the NZ Warbirds HQ at Ardmore, where you have the chance to chat with the captain, first officer and crew in their black-and-white uniforms with retro hats. Once on the plane and seated in the Boeing 767 seats, you listen to 1940s/50s inflight music before the distinctive Pratt and Whitney engines roar into action.
Usually, the DC-3 takes off to the west and climbs to cruise about 1000ft over Auckland International airport, One Tree Hill, Mt Eden, Eden Park, Motat, the Viaduct, Sky Tower, Mission Bay, Devonport, Harbour Bridge, Lake Pupuke, Rangitoto and sometimes the western end of Waiheke, back up the Clevedon Valley to land at Ardmore.
Jessica Cooper, who is responsible for administration, planning and logistics of the DC-3 flights, says the trips are suitable for all ages but they especially appeal to the older generation who enjoy the nostalgia.
"We have had touching stories from elderly folk who used to fly in the war or nurses who flew in DC-3s from Southern England to Normandy to bring back casualties, people who were a part of aviation history.
"We also have many ex-NAC pilots and air hostesses - they just love that old sound they remember. It was a wonderful time in New Zealand's history, as commercial aviation opened up the concept of travel to ordinary New Zealanders."
Cost: Adults $110, seniors $90, children $80. The aircraft can also be privately chartered
Contact: Fly DC-3 New Zealand
Ph: 0800 FLY DC3, (09) 479 1378 or 0274 382 297.
Paragliding
For those after a more hands-on experience, there's paragliding and hang gliding.
Paragliding, parapenting, hang gliding ... what's the difference? Paragliding and parapenting are the same, one is the English word (paragliding), the other French. And the difference between paragliding and hang gliding is that hang gliding has a rigid frame whereas paragliding is more like a high-performance parachute; but the flying experience is similar.
If you fancy trying paragliding, "hitch" a ride on a tandem flight with champion pilots Eva Walton-Keim or Reuben Muir, who run Wings and Waves and offer tandem flights and lessons on the North Shore and the west coast.
German-born Eva, ranked the top female paragliding pilot in New Zealand, has been flying since 1989. She reckons you can't beat the freedom of paragliding. "Air travel without the noise."
"You climb high up using only the lifting air, equipment which fits into a backpack and your experience. Being at cloud base, with your nose in the air, some birds joining you in a thermal, high above the beautiful New Zealand landscape, makes you feel wonderful and at the same time very humble as you realise how small and insignificant we are."
Passengers can meet Eva and Reuben at Bayswater and drive to the site with them or meet there. Since the pilot is solely in control, there is only a short briefing about the launch and landing, then the passenger is strapped into the harness which hooks into the apparatus. No minimum fitness is required as the pilot does all the work, and taking off is usually just a matter of steps before the glider is airborne. Fliers need sturdy footwear, comfy clothing and a wind-breaking top as the passenger sits in front of the pilot and has an unobstructed view.
Depending on the accessibility of the launch and landing site, Eva and Reuben have also flown with people with physical disabilities, including a woman with late-stage MS and people usually restricted to a wheelchair.
"You are moving around checking out your surrounding from different angles, getting a bird's-eye view," says Eva. "Being able to fly relatively low, we can go close to beautiful sites. At North Head, we see the Hauraki Gulf, the city centre, the Waitakeres. A real treat is a sunset flight at the west coast."
If the weather is suitable the couple offers cross-country tandem flights, where you fly in thermals which can take fliers up to the base of the clouds as they travel some distance with the pilot. There is no age limit; Reuben has taken up a woman on her 90th birthday. "She loved it and wants to go back for another flight," says Eva.
Contact: Wings & Waves
Ph: (09) 446 0020
Cost: $150 for about 20 to 30 minutes (discounts for children and groups).
Hang gliding
If you want to try hang gliding instead, contact Aqua Air Adventure, run by Paddy Monro, a master tandem pilot, test pilot and designer with more than 30 years' flying experience. Based in Auckland, he runs his tandem flights where the conditions are best, often on the west coast, from Muriwai to Kariotahi, or over the Waitemata Harbour. He says hang-gliding is the closest his customers will get to being superman or superwoman. "You feel very free up there." And "up there" means as high as 300-1000ft.
Passengers are strapped in beside the instructor which means, if they're up for it, they can have a go at controlling the glider. And, because the glider takes off from the ground, usually a beach, as it is towed behind a 4WD, most age groups and even paraplegics can experience tandem hang gliding.
Cost: $220 for a 10 to 15 minute flight
Contact: Aqua Air Adventure
Ph: 0508 GET HIGH (438 4444) or 027 2880 193.