Helen van Berkel and daughter Grace, 10, experience the rough-and-tumble of Action World.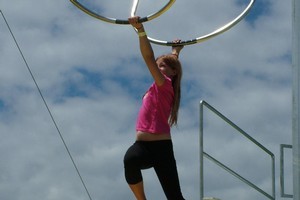 "Bash her! Smash her!" I cringe, hoping no one from Child, Youth and Family is listening to these instructions as I face off against my 10-year-old daughter, each of us with a giant cotton-bud jousting stick in hand.
I tentatively tap her leg and she whacks my upper arm, hard enough almost to hurt. I fend off what might have been a face shot and almost fall when she lands a good one on my upper thigh, followed with a quick ankle tap. That does it. No more Nice Mummy. I give her a hearty tap on the arm. And instantly feel like Bad Mother when she falls and I win.
Do not try this at home. Truly. The only place this kind of behaviour is acceptable is at Henderson's Action World park, where giant air cushions break your fall and your first half-hour is spent learning how to land - on your bottom or back - and it's can't-stand-up-for-laughing fun.
The park opened in April last year, and is a branch of the park in the Bay of Islands. Another operates in Taupo. Safety is paramount. You can show off your acrobatic skill on a full-size trapeze or walk the high wire, knowing that if you fall you won't be hurt.
Owner Gerry Robertson knows his stuff; a former trapeze artist, he was head rigger for the internationally recognised Cirque du Soleil. He oversees the park's structures, with the assistance of his wife, Xandri, also a former Soleil staffer.
First up, is a crazy ladder. It's an easy start because there's no choice on the sneaky rotating ladder but to land on your back. It is a good confidence-builder because you quickly learn that a fall on to the aircushions is harmless. The goal is to climb the ladder and ring the bell. Few people manage it on the first try, assures Xandri.
A low-slung wire gives you a gentle go at walking the high wire but my girl climbs straight on to the high wire. By this time she's having as much fun falling as from the challenges and just about makes it across before plunging into the cushions.
Apart from learning to fall safely, there's no schedule and you can return to whichever challenge you wish during your session, which is either 10am or 2.30pm. However, sessions are limited - and it is advisable to book.
I bet most parents have spent hours at inflatable playgrounds, fending off demands for bad food and stifling yawns as their children frolic on giant slides and padded swings, all the while secretly wishing adults had such a place. I know I have - this is it.
So much fun
Every time I jumped into the thick heavy mattresses I thought about the bell. I was going to ring that bell no matter what.
The bell is at the top of a tricky ladder that rotates and I tried to reach it over and over again. And over and over again I fell.
And finally I did it. I rang that bell.
In between the ladder, I was on the jump and slide. You can do a forward flip, a backward flip or whatever you like. I felt a little bit doubtful on my first try but, after I'd done it, I wanted to go again. Then I moved on to the jungle swings.
I'd usually swing out and hang there for about two seconds and grip onto the second swing with two hands. There were four swings so I repeated this technique four times.
This park is more exciting that I have been able to tell you. Bring confidence, sunscreen and water.
Leave fear at home.
- Grace Jack
Further information: 183 Central Park Dr, Henderson, Auckland. Ph: (09) 836 5247. Check out the website here.
Entry fees:
Children (5-12) $18
Students (13+) $22
Adults $25