Danielle Wright and family don't let the rain put them off Sandspit.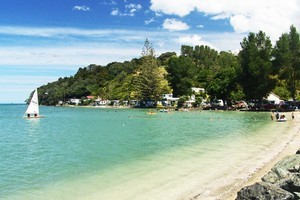 A wharf is rather like an airport - a great place to watch people coming and going. On a rainy day inside Cafe Sandspit we are listening to the rain on the canvas roof and watching as a majestic, shiny, black fishing boat returns to its base, while godwits wander past on the sandy beach right outside the window.
Above us, orange seagull feet dent the canvas, which is edged with fishing net and fairy lights. The brazen birds stomp about before flying off to follow the boats and steal their catch.
It's taken about 45 minutes to get here on an easy drive that passes a fence covered in hubcabs and through the "tooting tunnels" at Johnston's Hill, where our children insist we beep the horn as we drive through.
Just past Warkworth is the turn-off to Sandspit and, at the end of a shady lane, past fields filled with cattle and The Little French Shop, is the quaint wharf. Nearby is Sandspit Holiday Park with a unique attraction - a replica old-fashioned village.
After the kids finish their lemonade iceblocks, which have been carefully dipped in lemonade drinks (it was a rainy day, we indulged them), we make our way through heavy rain to the holiday park.
Four original buildings here date back to the early 1900s - among them an old schoolhouse and the headmaster's quarters. The rest of the replica village, including a moving picture theatre and photographic shop, was built by the current owner's father from derelict sheds.
The television room, or "moving picture theatre", has a huge flat-screen television, with vintage cinema seats in contrast. Across the path is a games room with pool tables and foosball, plus a giant Snakes and Ladders and outdoor chess set.
We walk around the park and past a row of permanent baches called "Lunch Box", "Corporate Box" and "Match Box" sitting side by side. It's very sweet.
People have camped here since 1935 but only officially from the 1960s and, on a clear day, it's worth driving up a hill past the donkeys and sheep to an olive grove and a 200-year old pohutukawa tree.
There are smaller tracks leading to Brick Bay, and to a sculpture park and vineyard, but these are steeper and best tackled without children. Or, take the main track to a tree swing and a grassy bank that rolls down to the sea.
Heading home in the pouring rain, we feel as refreshed as if we'd stayed longer at the holiday park, and we're glad the morning wasn't wasted huddled inside away from the weather.