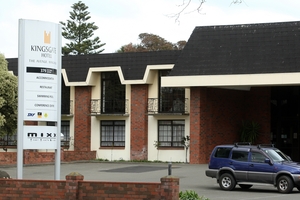 Security footage from local bars is being reviewed as police investigate rape allegations made against members of the South Canterbury rugby team.
The New Zealand Rugby Union (NZRU) says it was made aware of the police investigation on Tuesday and was concerned at the serious nature of the allegation.
They are talking to South Canterbury Rugby as the union helps police with their investigation.
A young woman alleged she was raped in the early hours of Sunday at a Wanganui hotel where the team was staying.
"The allegations have been made against men from a travelling sports team," Detective Senior Sergeant Neil Forlong of the Wanganui CIB said yesterday.
"We are in the very early days of our investigation and we do not yet have all the information including the number of alleged offenders involved.
"We have a number of statements to take and one of our priorities is getting this completed so we can piece together what has happened."
Ten officers are working on the investigation.
A central district police spokeswoman said the detectives involved are reviewing Wanganui District Council CCTV footage and images from surrounding bars.
They are also trying to speak to the "huge list of people" given to them.
She refused, however, to say if police colleagues in South Canterbury were also speaking to people.
"At this stage, we're not prepared to go into further detail over who else is being spoken to," she said.
She was unsure whether the Wanganui hotel at the centre of the allegations - understood to be the Kingsgate on Victoria Ave - has CCTV, but that would form part of the security camera review.
A scene examination has been completed.
South Canterbury Rugby Union chairman Brent Isbister said yesterday the union was working with police to help with their investigations.
"This is very distressing for everybody involved, and from a South Canterbury rugby perspective it is very disappointing," Mr Isbister said.
He said others on the province's rugby board had been made aware of the allegations but there was no intention at this stage to call a special meeting.
"We'll let the police work through their investigation and that's all I'm prepared to say at this stage."
The South Canterbury team was in Wanganui for a Heartland Championship match against the local province on Saturday afternoon.
Wanganui Rugby Union chief executive Dale Cobb said he had spoken to New Zealand Rugby and his counterpart at the South Canterbury Rugby Union, based in Timaru.
"Given the sensitive nature of these allegations and the seriousness of them, it's only right that we work off the same page with any comment we make," Mr Cobb said.
"We're certainly encouraging the police investigation to run its course, and for that reason there's nothing more I can add at this stage."
Three team members were seen drinking at a local bar, and were asked to leave because of intoxication about 1am, TV3 reported.
In 2008 the South Canterbury Rugby Union appeared before a disciplinary hearing related to misconduct by its members on a flight from Gisborne to Wellington.
For more articles from this region, go to Wanganui Chronicle