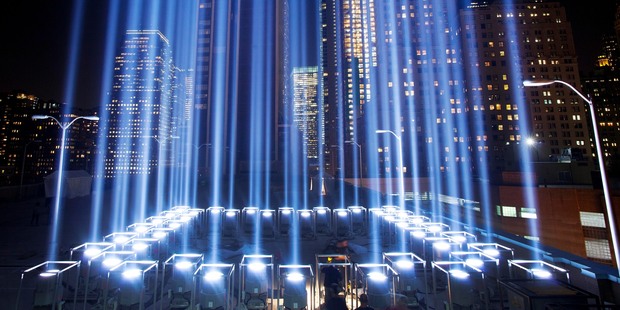 When this year's September 11 anniversary ceremony unfolds at ground zero today, the mayor who has helped orchestrate the observances from their start will be watching for his last time in office. And saying nothing.
Over his years as mayor and chairman of the National September 11 Memorial & Museum, Michael Bloomberg has sometimes tangled with victims' relatives, religious leaders and other elected officials over an event steeped in symbolism and emotion.
But his administration has largely succeeded in its goal of keeping the commemoration focused on the attacks' victims and their families and relatively free of political image-making. In that spirit, no politicians, including the Mayor, were allowed to speak last year or will be this year.
Memorial organisers expect to take primary responsibility for the ceremony next year and say they plan to continue concentrating the event on victims' loved ones, even as the forthcoming museum creates a new, broader framework for remembering 9/11.
"As things evolve in the future, the focus on the remembrance is going to stay sacrosanct," memorial President Joe Daniels says.
At today's ceremony on the 2-year-old memorial plaza, relatives were again to read the names of the nearly 3000 people who died when hijacked jets crashed into the World Trade Centre and the Pentagon and near Shanksville, Pennsylvania. Readers also planned to recite the 1993 trade centre bombing victims' names.
At the Flight 93 National Memorial in Shanksville, where today's ceremony was to include bell-ringing and wreath-laying, officials gathered yesterday to mark the start of construction on a visitor centre. The Pentagon planned a ceremony for victims' relatives and survivors of the attacks, with wreath-laying and remarks from Defence Secretary Chuck Hagel and other officials.
Yesterday firefighters from all over New Zealand attended a memorial service and took part in a stair challenge in the old BNZ Tower in downtown Auckland. The service was to remember both the firefighters killed in the 9/11 terrorist attacks in New York City in 2001 and also to honour members of the New Zealand Fire Service who have died in the line of duty.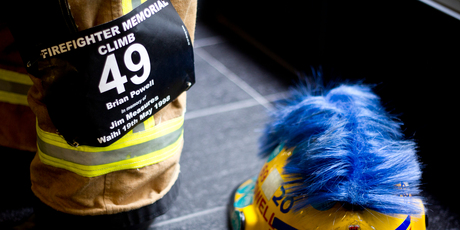 Deciding how to mark the US anniversary was a sensitive task for Bloomberg and other leaders in the months after the attacks. Officials fielded about 4500 suggestions including a Broadway parade honouring rescue workers and a one-minute blackout of all Manhattan before crafting a plan centred on reading names at ground zero.
- AP