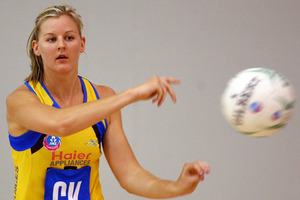 It was only a matter of time before Central Pulse skipper Katrina Grant confirmed she would be back for next season and she made it official last night.
The 26-year-old posted a message on her Twitter account to confirm she would play in the capital next year under Robyn Broughton's tutelage.
"Excited to be part of the @HaierPulse for another year! Can't wait to see what 2014 brings. #teamblackandyellow," Grant tweeted.
With Grant's signature on the dotted line, the Pulse officially have two players on the roster with incoming goal shoot Irene van Dyk the major acquisition so far, while coach Broughton will also be back.
In the past the Pulse have waited until Grant has signed before they have contracted other players and that appears to be the way they will go about their business this year.
It was important that Grant made her contract official during the weekend because the Silver Ferns go in to camp this week and players are expected to put their franchise negotiations on hold while they're on Ferns duty.
A strong majority of the Pulse squad have indicated they want to play in Wellington next season after the team made significant strides this year on their way to a franchise-best fifth place finish in the ANZ Championship.
The recruitment of Silver Fern Liana Leota was vital to their cause as it filled the troublesome wing attack position, while fringe internationals Camilla Lees and Te Huinga Reo Selby-Rickit continued to improve.
Goal attack Donna Wilkins showed no signs of age and at 35 was still one of the best on show in the competition this year and is likely to return given Broughton has signed on for another crack.
The only player who's future remains under a slight cloud from the Pulse's potential starting seven is wing defence Joline Henry who has been sounded out by the rebuilding Waikato-Bay of Plenty Magic.
She has previously stated she wants to be back in Wellington next year after struggling this season with calf problems.
It would be a surprise if she was to move on given her strong relationship with Broughton and a source close to the team told APNZ: "Robyn, actually any of us, won't see it coming if she goes to the Magic."
Henry, who has previously played for the Magic and the Northern Mystics, commuted to play for the Pulse this year and given she has a young family the travel factor may be seen as a problem.
If Henry was to return, the Pulse would be able to roll out an international quality starting seven of van Dyk and Wilkins in the shooting circle, with Leota, Lees and Henry in the middle court, while Grant and Selby-Rickit would anchor the defence.
With Broughton calling the shots, there's no reason why a starting side like that shouldn't be able to carry the Pulse to their first playoff berth in competition history.
- APNZ