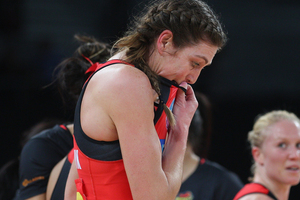 Irene van Dyk has been let off with a warning from transtasman league officials after her controversial outburst over the aggressive approach of the West Coast Fever defence.
ANZ Championship management met earlier this week to review van Dyk's comments made after the Magic's 57-51 loss in Perth at the weekend, in which she suggested the Fever defence were "dirty" and "got away with murder".
The explosive comments, which stirred up plenty of debate over whether the physicality in netball has gone too far, followed further complaints from other coaches and players in the league over inconsistencies in umpiring interpretations.
In a statement released this afternoon, the the Trans-Tasman Netball League (TTNL) said they had identified a number of comments that were contrary to the spirit of the competition.
It was decided no player or franchise would be sanctioned for their comments, but issued a reminder to all 10 teams about their obligations to the league.
"TTNL has identified several comments made by players and coaches in the opening rounds of the ANZ Championship that have pushed the boundaries," said ANZ Championship General Manager Andy Crook.
"We take comments of this nature very seriously and going forward TTNL will take a strong stance against inappropriate or defamatory comments directed towards umpires, coaches and players."
Teams have also been reminded that there are processes available to them to provide feedback following matches through appropriate channels.