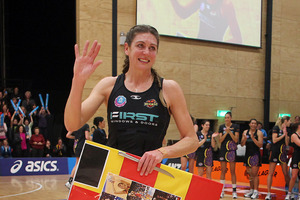 The debate over the increased physicality in the transtasman netball league erupted again yesterday.
Magic sharpshooter Irene van Dyk hit out at the rough-house tactics of the West Coast Fever defenders following her side's 57-51 loss in Perth. It was Fever's first win over the Magic.
The veteran shooter, always a target of opposition defences, launched a measured, but stinging attack on the Fever defenders Eboni Beckford-Chambers and Josie Janz.
After copping a constant battering under the goal yesterday, van Dyk dished out a few hits of her own in the post-match interview.
"I've been playing netball for a very long time, and I can honestly say I have never come across a defensive pair that are as physical and get away with murder," the 40-year-old super shooter said. "There's a fine line between playing with skill and coming out and being dirty, and I think they crossed the line."
Tension over the physical approach of the Australian defenders has simmered all week following Pulse shooter Donna Wilkins' angry outburst last week after she was on the receiving end of a brutal hit from Firebirds defender Laura Geitz.