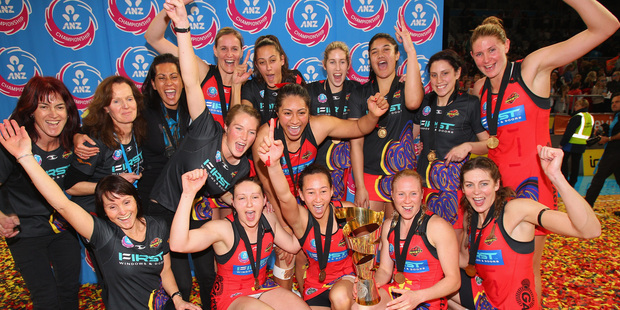 The transtasman league has finally netted a modest broadcast deal in Australia, but it will fall well short of the bonanza netball bosses were counting on when the competition was conceived.
Less than a week out from the start of the sixth season of the ANZ Championship, Netball Australia are yet to confirm details of this year's coverage across the Tasman, after former rights holders Channel Ten ditched the competition last season as it did not regard netball to be a "premium and significant sport".
Netball Australia have been promising an announcement on a new broadcast deal is imminent for more than a month, but as of late last night nothing had been officially released.
The ongoing delays mean ANZ Championship officials may have missed their opportunity to trumpet their landmark deal, with details of the agreement leaking out over the past week after netball coverage appeared on the schedules of two networks across the Tasman.
It looks as though the league will retain a free-to-air presence on SBS, showing one live match each weekend, while their broadcast partners Fox Sports will pick up the balance.
But with the ANZ Championship only believed to be receiving modest rights fees from the agreement, the deal won't bring new riches for our elite players.
Big-name players in the league like Irene van Dyk, Casey Williams and Maria Tutaia are estimated to earn about $50,000 to $60,000 from their franchise contracts, but the average player salary is only $15,000 to $20,000 - just a fraction of the $90,000 a fringe member of a Super Rugby squad would earn in New Zealand.
English import and Geva Mentor, a star defender for the Melbourne Vixens, has to supplement her playing income with a part-time role at Netball Victoria as a community engagement officer.
"It would be great to be able to earn a fulltime living off netball alone. The sport has come such a long way with the broadcasting and sponsorship opportunities that we have had and I just hope that that continues. It seems to have got a bit stagnant at the moment and we want it to keep growing," Mentor said.
Generating broadcast revenue out of Australia is seen as key to the ANZ Championship's salary cap being raised and allowing the athletes to become fully professional.
When the league came into being in 2008, most of the start-up money that underpinned the competition came out of New Zealand, with the backing of Sky the key factor in getting the venture off the ground.
There was not the same level of enthusiasm for a professional netball league from the Australian networks, with the television deals across the Tasman failing to yield any return.
Netball New Zealand were nevertheless happy with this arrangement, as the idea was once the competition had gained a secure foothold in the potentially lucrative Australian market, they would get a paid deal, which as joint shareholders they stood to benefit from significantly. While there was no deadline put on generating broadcast revenue in Australia, the expectation was that after five years they would have made good ground.
But with netball - a sport that has bigger playing numbers than cricket and AFL across the Tasman - struggling to make an impact in a crowded market, it could be some years yet before the players are any better off.
ANZ Championship
*Top players earn $50,000 to $60,000 + car and accommodation allowances.
*Minimum player payment $15,000 (up from $12,000 in first five years).
*Base payment for New Zealand Super 15 player - $90,000 (including ITM Cup top-up).
Spotlight on a changing sport
In tomorrow's Herald, sports journalist of the year Dana Johannsen begins a two-part series examining netball's difficult transition to professionalism. In part one, we look at how low wages and high demands are forcing players from the game.