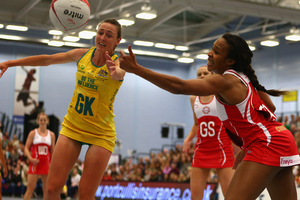 Minus captain and team veteran Natalie von Bertouch, Australia's world champion Diamonds have lost the first match of a three-test netball series against England.
The home side led throughout Sunday's clash at Bath, west of London, and although the Australians narrowed the margin in the closing stages, couldn't prevent the 58-53 loss.
The outcome is a turnaround result for the teams, with Australia having won the past eight consecutive fixtures against England.
Von Bertouch was ruled out of Sunday's match after a finger injury flared up during training on Saturday.
The two teams next meet on Wednesday at Wembley, before the closing match on Australia Day.
- AAP