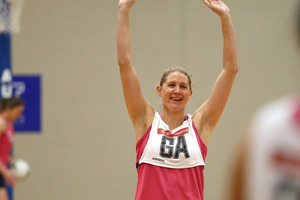 Casey Williams has been pain-free for the past two days - that's a long time in her recent experience - and has declared herself ready to start for the Silver Ferns tomorrow night when they meet England in their Quad Series clash in Wellington.
The Silver Ferns skipper has been hampered by an ongoing complaint with her left knee which forced her to miss last month's Constellation Cup series against Australia, while she has also been limited in the Quad Series.
The 27-year-old was summoned from the pine to begin the second quarter in Sunday's disastrous 68-48 loss to Australia in Sydney but couldn't imprint herself on the contest as a lack of training time meant she was rusty.
But, with a strong week of training in the bank, Williams said she wanted to play from the opening whistle tomorrow.
"That would be a nice feeling and also after warming up to get straight on is a lot easier than cooling down and having to warm up again," she said.
"The last two days I've been pain free, which is a little bit scary.
"Everything's good now but I'm still making sure that, just because I feel good, I don't go out and thrash it."
Although Williams might be sick of talking about her ailments - she has also battled an ankle problem in the past - the fact remains she will be managed carefully in the final three games of the Quad Series by Ferns coach Waimarama Taumaunu.
Williams' knees will be of specific concern - they should almost have their own insurance policy - and the 1.88m defender said it was in a training run that she picked up her original knock.
"I got kneed in my knee when we were playing a men's netball team in Auckland and my knees are very precious and fragile at the best of times," she said. "You can knee me anywhere else, just not there. So it just sort of set them off and for them to get better I have to rest. That's the only key to it."
Taumaunu has made no secret that various line-ups and combinations will be given a gallop tomorrow night as the side builds towards next week's final match of the tournament when they meet Australia in Hamilton.
Despite four teams being involved in the Quad Series, England and South Africa are really only sparring partners for the two heavyweights of the international game.
New Zealand beat England 61-43 in the first round of the tournament last week and have won 74 of their 79 contests in the past with three losses and two draws.
Williams said tomorrow's outing against England at the TSB Bank Arena, which will be played after Australia tackle South Africa in the earlier contest, was another opportunity to polish their execution.
"It is performance but it's also practice for us as well leading in to the game against Australia," she said. "But for us, we know that was a terrible performance on Sunday and we don't ever want that to happen again. We just want to go out there to prove a point for ourselves, to everybody else and make sure that our structures and stuff we are doing in training actually work out on court."
And, as for where Williams will play?
"I like goal defence, you get to run around more," she said with a grin.
It should be a good test for that knee.
- APNZ