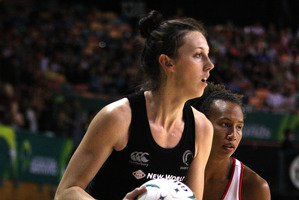 Whether or not Bailey Mes takes the court against Australia today will indicate the level of confidence Silver Ferns coach Waimarama Taumaunu has in her rookie midcourter.
Mes was a shock selection in the Ferns this year, elevated to the national team after just 15 minutes of ANZ Championship play. So far, Taumaunu's punt hasn't paid off in the way she would have hoped.
After serving her apprenticeship on the bench during last month's Constellation Cup series, Mes struggled in her first two international outings this week. She was never expected to be a creative playmaker in the ilk of Temepara George or Liana Leota, but the stability, patience and cool head that Mes apparently displayed in trials and on the practice court have not been transferred to the international environment.
Taumaunu described Mes' debut against South Africa as "adequate at best", with the 1.86m wing attack struggling to assert herself. She improved slightly against England on Wednesday night, but not to the extent that would inspire great confidence if she was thrown on against Australia in today's clash of the Quad Series heavyweights.
Taumaunu said she will look back over the tape of the England game and have a "long, hard look" at whether giving Mes court time against the Diamonds is the right thing for the youngster at this point.
"I thought Bailey was better [on Wednesday night], she had a better defensive effort, she had more presence about her and she just kept it simple," she said. "I still don't think she holds 15 minutes, there is still a drop-off in form towards the end of each quarter and towards the end is when the Australians can really get right in to you."
If Mes is overlooked today, she is fast running out of opportunities to prove herself. She will likely get further game time against South Africa and England when the series moves to New Zealand next week, and will need to show significant improvement in these outings.
While Taumaunu's experiment has so far failed to produce the desired results, it came at a time in the four-year international cycle when she could afford to - and probably needed to - take a punt or two.
She will be heartened by the fact that she will have a few more midcourt options up her sleeve next season with Leota tipped to return to the ANZ Championship next year, and Sydney-born Kiwi Courtney Tairi on a comeback from a knee reconstruction.