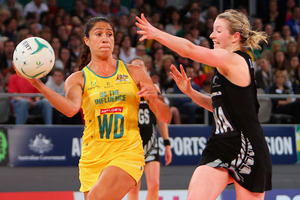 Silver Ferns 54
Australia 52
Diamonds coach Lisa Alexander claims the Silver Ferns "out-Australianised" her side as New Zealand drew first blood in the Constellation Cup series.
Without their talismanic captain Casey Williams, the Ferns edged Australia by two goals in yesterday's opening test in Melbourne, leading at every change of ends.
Williams, who was poised to return to the international arena after a 14-month absence, was ruled out of the series opener yesterday morning after pulling up with a sore knee after training.
Without their chief ball-gatherer, the onus was on the Ferns' attack end to produce an extremely accurate performance to fend off the Australians on their home turf.
The New Zealand side proved equal to the task, with midcourters Laura Langman and Camilla Lees patiently working the ball in to shooters Irene van Dyk (28/29) and Maria Tutaia (26/29), who both finished brilliantly.
Alexander believes her side were beaten at their own game.
"I thought they were extraordinarily patient with the ball, and that frustrated us," she said.
"We just could not turn over ball. And it's a credit to them, they actually out-Australianised us - if that's a word."
It's not. So you can forgive New Zealand coach Waimarama Taumaunu for being a little confused as to what Alexander was getting at.
"I'm not even sure what that means," she laughed.
But Taumaunu did concur her side's superior execution in the attack end was the winning of the match for them, with Australia having eight more attempts at goal than the Kiwi side.
"Great shooting by both our of shooters, we took one more gain ball than the Australians did and when you win by margins of two the differences can be that small between the two teams," said Taumaunu.
Much of the pre-match talk surrounded how the new-look Ferns midcourt would fare against the experienced Australian line-up, with the wing attack spot in particular being the main concern.
But three-test rookie Lees, who was playing against Australia for the first time, impressed with her patience and composure.
The 23-year-old medical student admitted she was nervous about being thrown into the red-hot atmosphere of a transtasman test, but said she was pleased with her first outing.
"I was a bit nervous to start with but as the game went on I really enjoyed it. I was trying to keep my cool in the last five minutes which seemed to take forever ....I loved it, it was cool," said Lees.
"It was a huge step up and I felt every mistake we made we were punished. That was probably the biggest step up I noticed, I didn't want to make any mistakes.
Despite getting past the Australians without the services of their best defender, Taumaunu said her side will need to take a big step up in Thursday's second test in Auckland if they are to secure their first series win in eight years against their most fierce rivals.
"I think there's quite a bit of room for improvement. I was really pleased with centre pass work, that's what we focused on, I thought our error rate on our through court was probably a bit higher than I would have liked so I'd like us to do something about on Thursday."