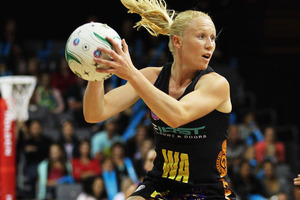 Retired Silver Ferns mid-courter Temepara George has been named a co-winner of the ANZ Championship's most valuable player award.
The Northern Mystics captain and Waikato Bay of Plenty Magic skipper Laura Langman have been jointly awarded the supreme gong.
Both have played a key role in leading their teams to the ANZ Championship playoffs.
Langman can add a maiden title to the accolade with the Magic squaring off against the Vixens in today's grand final in Melbourne.
"We're going to have to really amp up the intensity and be prepared for what is going to be an extremely physical battle and just leave it all out there. I think each team wants the top honours, and the team who will be the most deserving will get it."
She says they've twice been the bridesmaid and are over it.
"We're certainly using our experience from those previous finals to how we've approached this one. It's a different beast, every year puts out - the bar gets raised a little bit higher and you've got to change ways to be able to compete with the best."
The opening centre pass will be thrown at 4.30pm.