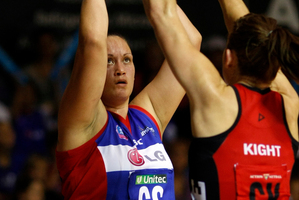 Just as in death and taxes, an Australian winner of the transtasman league seemed like one of those certainties.
The first four years of the competition have produced four different winners - all hailing from the other side of the Tasman.
While the Magic and Mystics have appeared in grand finals (two in the Magic's case), the reality is neither threatened to win the ultimate match.
But with the third-placed Magic the form team heading in to the finals and the unpredictable Mystics always a dangerous proposition, many are tipping this year to be the year the drought ends.
Since their winless opening month, the Waikato-Bay of Plenty side have racked up nine straight wins - the longest winning run of any team this season and a franchise record.
"When you think about how far we've actually come from 10 weeks ago and we made it to the finals without having to rely on other results going our way, it's quite amazing really. We can take a lot out of our performances," said Magic coach Noeline Taurua.
Their performances over the past three weeks have been particularly impressive, knocking off heavyweights the Mystics, Thunderbirds and Firebirds, the latter two by hefty margins.
These wins demonstrated the Magic's new patient, controlled style of game can hold up against some of the league's top defensive combinations.
"We've been put under a lot of pressure defensively, and our structures have held up a lot better than in the past. We're showing much better discipline on attack and that's the pleasing thing for me," said Taurua.
The Mystics are a much tougher side to get a gauge on.
They have had a typically up-and-down season, making the top four without really setting the competition alight - their round eight win over the Vixens in Melbourne being the exception.
This weekend they return to take on the minor premiers on their home turf once more.
While the Auckland side have an extra life in the play-offs by virtue of their top-two finish, rolling the Vixens this weekend and securing a home grand final is seen as key to chances of wresting the crown from the Aussies.
Mystics shooter Cathrine Latu said her side would be doing everything they could to bring the grand final to Auckland.
"I think it's definitely a huge advantage [to get a home grand final]. You look back and every year the team that has won the major semifinal has gone on to win the competition.
"So that's the path we are aiming to take as well," said Latu. "It's nice to know we have that extra life, but we need to push that to one side. Because last year it was do or die, if we didn't win we were done, and that helped us play some of our best netball. We need to go in to this game thinking the same way."