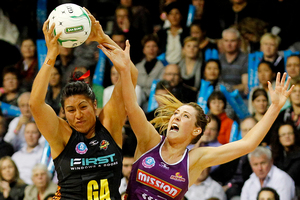 Magic 53
Firebirds 43
For the fifth straight season, the Magic are through to the transtasman league play-offs.
Tonight's 10-goal win over the defending champion Queensland Firebirds, the Magic's ninth on the trot, demonstrated just how far the team have come this season.
Put under huge amounts of pressure by the Firebirds defence through the middle stages of the match the Magic held firm.
The win boosted the Magic in to third place on the ladder, earning them the right to host the Thunderbirds - the team they demolished by 17 goals last week - in next Monday's sudden death final.
Last night's win saw the Magic maintain their record as the only side in the competition to feature in the finals every year.
The Queensland side could not recapture the form that saw them blitz through the 2011 season unbeaten.
While they were beginning to find some spark later in the season, they needed to beat the Magic by over 20 goals last night to force their way in to the top four.
While the 10-goal scoreline suggested a comfortable victory to the Magic, the Firebirds offered stiff resistance.
Trailing 27-24 at the main break, the Firebirds got their noses in front for the first time in the match shortly after the resumption, with the Magic making an untidy start to their second half.
But the Magic steadied the ship with a couple of timely pick-ups in the defensive end to regain the lead heading in to the final turn.