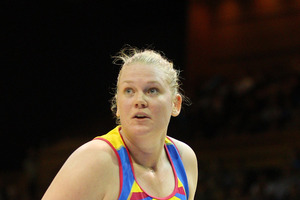 Caitlin Thwaites. Photo / Getty Images
Typically, teams have needed at least 16 points to make the ANZ Championship play-offs. However, in this topsy-turvy season, the minimum 'qualifying' mark could be lessened but we could yet see just one New Zealand team in the finals, for the first time since the 2008 season. There are three New Zealand sides still in contention.
Mystics (14 points)
They are top of the tree but it will be a challenge to stay there. The publicity over the Harrison hoist seemed to have an adverse effect on Debbie Fuller's side as they were determined to display it for home fans last week against the Tactix, which stole some of their focus. The Vixens, Thunderbirds and Swifts (all 12 points) are all ready to pounce on any slip-ups, with the latter two sides also having the advantage of a game in hand.
"The Mystics can be a stunning team," says Silver Ferns coach Wai Taumaunu, "and are lovely to watch. Earlier in the season they would get a lead and didn't really punish the opposition and that would remain one of their major concerns."
"They seem to have a more settled line-up now," says former Ferns and Mystics coach Yvonne Willering. "They probably still throw the ball away too much but their potential when they click is huge. They are in pole position." Their clash with the Magic in two weeks could have huge consequences for both sides and expect the Mystics to finish second overall - perhaps on goal differential.The run-in: Bye, Steel (h), Magic (a), Tactix (a), Swifts (h).
Magic (8 points)
The only side in the competition to make the finals in every season, there is a real prospect that the Waikato franchise could finish outside the top four this year.
If they win every match from now on, then 18 points may be enough to squeeze into fourth spot but that would be an achievement considering their last three matches are the Mystics, Thunderbirds and Firebirds.
"They can do it," says Willering, "but will be under tremendous pressure. The whole focus will be on having to win rather than on the performance leading to the result."
"After such a rocky start [to the season] they might have fallen apart," says Taumaunu, "and a lesser team would have. The Vixens game (a one goal loss in round four), even though they didn't win, was probably the turning point in their season."
It is strange to contemplate a finals series without the Magic - and there is still a chance that the Australian sides could cancel each other out - but Noeline Taurua's team remain outsiders to reach the top four.The run-in: Steel (h), Pulse (h), Mystics (a), Thunderbirds (h), Firebirds (h).Pulse (8 points)The final four will almost certainly be a bridge too far for Robyn Broughton's outfit - and they have only four games left, not five - but they could yet play a spoiling role, especially with their trip to Hamilton in two weeks and a round 13 clash with the Vixens.
"At the start of the year they were desperate to get off the bottom of the ladder," observes Willering, "and any win was a bonus.
"In the next few weeks they will have to cope more with the pressure of expectation but look well-equipped to do so."
Caitlin Thwaites has been a standout and is having a marquee season and the Wellington team should end their campaign with at least five wins, a more than creditable pass mark for the franchise.The run-in: Tactix (a), Magic (a), bye, Vixens (h), Fever (a).