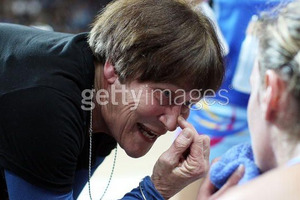 Central Pulse coach Robyn Broughton is wary of the Queensland Firebirds despite their 0-2 start to the transtasman netball competition.
The defending-champion Firebirds have struggled in their opening fixtures and, worryingly for them, both losses have come on their home court.
Meanwhile, the Pulse, who recruited well in the off-season in the form of Silver Ferns Joline Henry and Paula Griffin, and who also added Broughton, have begun with a win and a loss and meet the Firebirds in Brisbane on Sunday.
"We are actually looking forward to the game," Broughton said. "But I've been warning the girls that this team, the Firebirds, are like wounded bulls, really. Because I've been quite surprised at their losses.
"I've had a close look at them and I think they have struggled a bit on attack but they've struggled on defence as well. I'm also aware that it's a different type of game over there - the [referee] interpretations and things like that."
The Pulse have never won an ANZ Championship match in Australia in 10 attempts and their best result was a draw when their game with the West Coast Fever was abandoned due a to leaky roof in Perth in 2008.
Broughton said that record hadn't been mentioned at training this week.
"Only by media, not by me. I'm more concentrating on myself and my own team in that I think the belief has to be there and the trust in one another. So more just making sure we are sure of our own game plan, really."
That game plan has been based around a strong defence, led by captain Katrina Grant, Henry and fellow newcomer Te Huinga Reo Selby-Rickit, who followed Broughton north after previously playing under her at the Steel.
"Katrina Grant has had two really good games and I thought last season she had a slow start to the season. I know she had injuries as well, but she's playing with a great deal of confidence and leading well," Broughton said.
"At the other end we've got [shooters] Caitlin Thwaites and Paula Griffin working well. The midcourt is still getting to their best together. We've had a few injuries and we've been without one of our players as Katarina Cooper hasn't been available yet, which means we are muddling around on combinations a bit there. But they've done a good job so far."
Cooper, who has missed the beginning of the season with an ankle ailment, will be part of Broughton's travelling squad this weekend.
As for what has changed at the franchise this season, who have a history of underperforming, Broughton deflected praise from her efforts with the squad.
"I think the team's very capable. I think there's some good players out there. I'd probably push the team aspect of play rather than individual-type game plans. It's more trying to get them set up for one another. I don't know [what I've added], you'd have to ask the girls. I don't feel anything different. I just feel I'm really enjoying it and they're responding well."
Following their jaunt to Australia, the Pulse play their first game in their spiritual home base when they host the Canterbury Tactix at the Te Rauparaha Arena in Porirua on April 23.
- APNZ