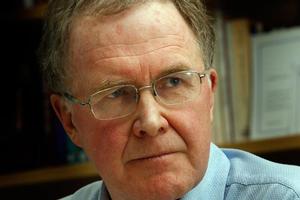 The Health and Disability Commissioner cites the case of a young woman, who was denied an MRI brain scan and later required surgery for a brain tumour, as an example of New Zealand's health "postcode lottery".
Recently departed commissioner Ron Paterson, in a report released today, suggested that access to publicly-funded health services depends where patients live.
He recommended the Nelson Marlborough District Health Board (NMDHB) apologise to the woman - now aged about 30 and referred to in his report released today as Mrs A - for failing to provide appropriate and timely treatment for her brain tumour.
She first suffered pain and hearing loss in her right ear in 2005 but despite referrals to the board's ear, nose and throat (ENT) clinic, including one that was declined despite being assessed by an ENT consultant as "semi-urgent", she did not have an MRI scan until August 2008.
Part of an extensive tumour was removed from her brain but she has suffered ongoing problems and required surgery again this year.
Mr Paterson said the case highlighted the need for clarity and timeliness of information about assessment and treatment options, if publicly funded services were not available.
"It also illustrates the unfairness of 'postcode lottery' access - where the ability to access publicly funded services depends on the patient's place of residence in New Zealand."
The board said in a statement today it had apologised.
"We are very sorry that it was not possible to fully remove the tumour and that this patient continues to suffer the consequences," chief medical adviser Dr Andre Nel said.
Mr Paterson noted that referrals for MRI scans at Nelson Hospital far exceeded capacity in early 2007 and though the MRI management group recommended that the part-time scanning service should become full-time to meet demand, the DHB decided against it because of budgetary restrictions.
When she finally had her scan, it revealed a 4cm slow-growing benign tumour.
In September 2008 she had surgery, but not all the tumour could be removed. She was reported to have made reasonable progress but had a "dead" right ear as a result of the surgery and experienced headaches. She required further surgery this year.
A month later she complained to the board about the delays, saying she did not want other people to go through what she had experienced. "At what stage do NMDHB class people as urgent?" she asked.
The board told the commissioner it regretted that it could not provide an MRI scan to Mrs A in the first half of 2007 but it considered its management of her was appropriate.
But Mr Paterson said it breached two rights of the Health and Disability Code - the right to services of an appropriate standard of care and the right to be fully informed.
"It is natural to feel considerable sympathy for Mrs A and her family, who have suffered greatly as a result of the significant delays in her care," he said.
He noted that the board had since increased its radiology resources and was now able to accept routine referrals for public patients for asymmetric sensorineural hearing loss, as originally suffered by Mrs A. The public ENT service was also accepting referrals from GPs, though not from private specialists.
Dr Nel said the DHB accepted the importance of health professionals working together in the interest of patients and this had not happened in Mrs A's case.
"It is our intention to ensure effective co-operation between staff in order to ensure that a similar outcome is not repeated. We will also clarify communication responsibilities with staff.
"Important information was missed when the patient's referral for MRI was triaged as 'routine' and the resulting letter sent gave the patient false reassurance."
- NZPA