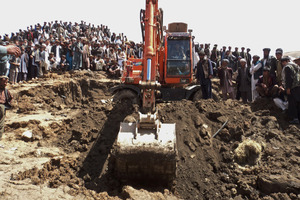 The spring rainy season had already brought death and destruction to northern Afghanistan. For days, flash floods ripped through high mountain valleys.
Late last week the waterlogged mountainside above the remote village of Ab Barik could take no more, sending a torrent of mud crashing through hundreds of homes, burying more than 2000 people.
Rescue teams who arrived on Saturday said they faced impossible conditions, digging through as much as 27m of mud. The United Nations said 350 bodies had been recovered. Local officials feared as many as 2500 people had died.
One of the few people to escape the landslide spoke of the moment mud engulfed his village.
Rahim, who uses a single name, was at his home in Ab Barik. He was spending his day off alone on Friday while his wife and children visited his in-laws across the village.
He heard what sounded like the end of the world. It started with a noise like a howling wind, then the crash of falling trees before an echo of screams rang around the village, he told the Sunday Telegraph.
"I ran out and saw an ocean of dirt coming down on the village. There was just dust on top of it, all moving so very fast."
His house, made of little more than mud bricks, was at the far edge of the mountain, so he had time to run.
Rahim told his story after reaching Fayzabad, the provincial capital of Badakhshan in the far northeast of Afghanistan. He had brought his injured son to hospital.
With little hope of recovering anyone alive from beneath the mud, they were among the fortunate few.
"Five families that were my relatives are gone. There is no sign left from them," said Rahim, breaking into tears.
The village never stood a chance. A first slide took place about 11am local time. Tonnes of soil came loose in a wide river of mud, carrying with it rock and debris that destroyed everything in its path. Some 300 homes were buried. Worse followed. As locals grabbed shovels or any tools they could find to help, witnesses said the mountainside "cracked", sending a fresh wall of destruction sliding into the valley and burying the village.
A wedding party was reportedly caught in the middle. Others died crammed into two mosques for prayers.
Plans were in place for a memorial service yesterday and to declare the village a mass grave.
The Afghan military said conditions made removal of bodies difficult and there were fears of another landslide. Even before the landslides, the spring rains had killed more than 150 people in northern Afghanistan. The UN said the main needs were water, medical and counselling support, food and emergency shelter.