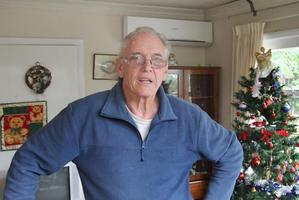 John Bennett at his New Brighton Road property. File photo / APN
A Christchurch pensioner arrested and "roughed up'' by armed police while protecting his quake-hit property has welcomed police watchdog findings which slams the officers' actions.
But 66-year-old John Bennett says the incident has had long-lasting effects on him and his wife Iris' health.
"It'll be a long time before I trust a policeman again,'' he told APNZ today.
The Independent Police Conduct Authority today said police acted unjustifiably and unreasonably in arresting Mr Bennett who had armed himself with an air pistol and a tee-ball bat while investigating sounds of an intruder on his property soon after the Canterbury earthquakes.
Canterbury police accepted the findings, but said no further disciplinary action would be taken against the officers involved.
The report outlines the incident, which happened in the early hours of December 16, 2011 when Mr Bennett was woken by the sound of an intruder on his Burwood property.
Given a recent spate of burglaries and looting in the suburb, due to the area being largely deserted after the city's February 2011 earthquake, Mr Bennett, who was wearing just a T-shirt and underwear, went outside to investigate.
About the same time, police were actively searching for an assailant who was tracked to Burwood.
After going back inside to call the police Mr Bennett heard more noises and went outside a second time, armed with an air pistol and tee-ball bat.
He discovered a police officer on his driveway, who admonished him for holding weapons.
After an exchange with the officer and following the arrival of other officers at the scene, Mr Bennett was arrested for unlawfully carrying a firearm and possession of an offensive weapon.
During the arrest Mr Bennett was made to lie face down while the arresting officer used his knee and foot on Mr Bennett's back to keep him on the ground. Mr Bennett's face was also pushed into the ground.
The charge was later withdrawn.
The police investigation concluded that the force used by the arresting officer was reasonable.
However, following its review of the police investigation, the authority determined that the force used was excessive, and that this force and Mr Bennett's arrest were unjustified and unreasonable.
Independent Police Conduct Authority chairman Judge Sir David Carruthers said the arresting officer acted prematurely and without an adequate appreciation for the facts of the situation.
"As a result, the force used during Mr Bennett's arrest was unnecessary and disproportionate to the circumstances,'' he said.
Certain actions of police were unnecessary and unwarranted, and failed to have regard or respect for Mr Bennett's dignity, Sir David said.
"In particular, (the officers) should have ensured Mr Bennett was able to access appropriate clothing and footwear from his home before taking him to the police station.''
A complaint by Mr Bennett that an officer had not identified himself was not upheld.
Sir David's report has been sent to Police Commissioner Peter Marshall to determine what action should be taken in respect of the officers involved.
Canterbury police said the officer involved had already received additional training in response to the issues raised.
District Commander Superintendent Gary Knowles said the finding that the arrest and the force used were unjustified raised a number of points that would be considered by the district, which has already completed on its own investigation into the incident.
Mr Bennett was pleased with the authority's probe, saying if police had conducted themselves like the watchdog did, ``then you'd have a perfect community''.
And while he hoped lessons would be learned, he feared his incident will ``be forgotten again in a few years''.
"In all other industry and sectors, people are held to account for wrongdoings, and the police shouldn't be any different,'' he said.
"We got the right result in the end. It's been a long time coming.
"Ever since the incident, there's been a lot of worry and stress on us. My wife is in remission for cancer, and stress is the worst thing to bring it back. But as least it's done and dusted now.''
- APNZ