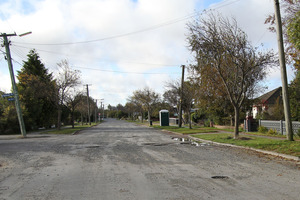 Damaged chimneys and homeless people are likely to lead to more abandoned red zone properties going up in flames this winter, firefighters fear.
Fire Service fire risk management officer Mark Thomas said homeless people would soon be moving into abandoned homes to keep warm.
If they lit fires where chimneys were damage it could be a recipe for disaster.
"We definitely are very, very concerned. There has been a slow but steady increase of fires in red zone properties. At the moment I would say we are up to about one a week," said Mr Thomas.
"We quite often find evidence in the houses of people living there including bottles, graffiti, bedding and mattresses," he said.
"The chimneys in these houses are almost certainly damaged, with holes in bricks that fire can escape through from the flue and into the ceiling.
"Houses were severely damaged by earthquakes and there is a reason why they are in the red zone.
If people occupying these houses decide to use the fireplace it will be a recipe for disaster," he said.
Tenants Protection Association manager Helen Gatyoni said social services had known for a "very long time" that homeless people were living in red zone properties and they did so out of "survival and necessity".
"Little communities of tents" existed in abandoned red zoned sections. The homeless would take shelter inside during winter.
"At the moment they have formed little communities of tents, perhaps half a dozen of them, in the yards. We've had discussions with the Fire Service over the inventive way they can camouflage where they are. You can actually walk right past them and not even notice they are there," she said.
She said it would be hard to keep an eye on them because they were very quick at moving if spotted.
"They are very adept and very adaptable at finding a different location at a drop of the hat. They are survivalists.
"What do you do when you find about it? If you report it then where do they go? To other red zoned properties of course. Sometimes it is safer to know where they are than not know," she said.
Ms Gatyoni said she had been on a tour of the red zone with the Fire Service to look at the problem and were working closely with them.
Mr Thomas said red zoned properties owners could help by securing the houses more effectively.