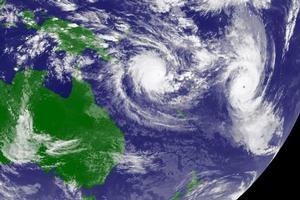 Cyclone Tomas was lashing northern islands in Fiji last night with winds of up to 230 km/h, causing major damage in many areas. Photo / Supplied
A cyclone tore through Fiji overnight and ripped off roofs, uprooted trees and flooded homes with an "indescribable" howl.
It continues to blast islands with thunderstorms and damaging swells as winds gain momentum.
The Fiji Times reported early this morning that more than 10,000 Fijian residents took shelter in 178 evacuation centres around the country overnight.
Staff at Nukubati Island Resort, off the coast of Vanua Levu, took refuge last night in a room at the back of the resort's strongest building.
"I'm screaming at the staff so that we can hear each other. [The wind is] howling ... I just can't describe all this noise," staff member Asena Steiner told the Herald.
The storm's noise was indescribable and the sound of flying debris frightening, she said.
"If I go outside, [it] would be very, very dangerous for me."
Fiji Red Cross disaster co-ordinator Vuli Gauna said rivers were rising rapidly in Vanua Levu this morning as high tide approached, creating fears of flooding over a wide area.
Contact with a Red Cross branch in Taveuni had been lost, Mr Gauna said. Before contact was lost, staff had been describing severe winds as they rushed to get people into evacuation centres.
Local media have got no images from the worst-hit areas, with flights grounded and communications intermittent.
Pacnews editor Makereta Komai said a daytime curfew was also in place in Suva, Fiji's capital, until 5pm, leaving the streets barren.
"People aren't allowed to get out of their houses. Yesterday there was time for people to get everything ready. Now people are told not to move out of their houses. We've been waiting since Friday last week. It's very frustrating."
She would need a special pass to go to work, Ms Komai said.
The Ministry of Education has also advised that all schools in the island group are closed today.
Fiji Meteorological Service said Cyclone Tomas showed no signs of weakening from its category four classification, and wind speeds were expected to rise to an average of 200km/h this afternoon, up from 175km/h.
Tomas had passed over Fiji's second-biggest island, Vanua Levu, and was headed for the Lau Group, which includes about 30 small inhabited islands.
The Fiji Times said communications had been lost with the vulnerable Lau islands.
Fiji's disaster management office, Dismac, said it was collating damage reports from overnight and would have them available later in the morning.
The even stronger Cyclone Ului had caused damage and flooding in the Solomon Islands. Ului is a category-five storm, the most powerful.
Both cyclones are fiercer than Hurricane Katrina, which destroyed New Orleans and other areas of the southern United States in 2005.
Though Tomas was not expected to hit Viti Levu, the most populous island in Fiji, authorities in Suva confirmed that emergency morgues would be set up as the brunt of the storm looked set to hit northern islands including Vanua Levu and Taveuni.
The eye of the storm was expected to pass over northern Fiji about midnight last night (NZ time), heading for the Lau group.
On Taveuni, doctors and nurses rushed to evacuate 18 patients from the island's health centre after part of its roof was destroyed, Fiji Times Online reported.
Australian tourist Clare Melvin told AAP she was evacuated from her accommodation at Plantation Island, west of Nadi, on Sunday.
"They basically said to us, 'If you've got kids, you should go'," said Ms Melvin, who has been holidaying in Fiji with her husband and two small children for a week.
She said that of the 120 mostly New Zealanders and Australians staying at Plantation Island, 76 had decided to head back to Nadi and stay at the Raffles Gateway Hotel.
Meanwhile, the first victim of the cyclone, Tamarisi Tabua, was last night being hailed a hero.
She was with her sisters Mereula and Alanieta Evans, nephew Mesake, 10, and niece Fulori, 4, when waves swept them into Namilamila Bay at Ucunivatu, Cakaudrove, on Vanua Levu, on Saturday.
Alanieta, a former national netballer on holiday from England, told the Fiji Times they would have died had her sister not sacrificed her own life to save the others.
Netani Rika, of Fiji Times Online, said the northern parts of the country had been hit hard, but areas around the capital were yet to feel the full effects of the cyclone.
"At least 14 homes destroyed - blown down by the wind or destroyed when trees fell on them," he said.
The island of Cikobia, northeast of Vanua Levu, had also been battered. Rika said communications had been lost with the island, which had reported major damage.
Cyclone Tomas was last night expected to move south from the top of Fiji, and Cyclone Ului was expected to move towards Australia.
Ului was weakening as it shifted away from the Solomons into open ocean.
The provinces of Temotu, Makira and southern Guadalcanal had all experienced strong winds, heavy rain, storm surges and rough seas.
Tropical cyclone warnings remained in place for a number of provinces, including Makira, Guadalcanal and central and western Malaita.
There had been no reports of casualties.
Meanwhile, an Auckland-based Indian radio station kicked off 40-hour Radiothon at 8.00 this morning to help victims affected by Cyclone Tomas in Fiji.
Apna 990am general manager Shaiyaz Mohammed said a bank account has been set up for donations.
Mohammed said he will be flying to Fiji later in the week to distribute food supplies.
He said he expects to hand out $50 to $100 worth of food items to each of the cyclone-affected families.
* Additional reporting from nzherald staff