The shock of losing one of their mates is still setting in for some pupils of Raglan Area School who turned up to school in tears this morning. Malcolm Cox, principal of Raglan Area School, said 16-year-old Richard Keremeta's death had struck a chord with not only the pupils, but the staff and whole community. Mr Cox said it had been an emotional morning.
Latest NZH Video
Jacinda Ardern speaks at the 'Let's Talk to Labour' youth event.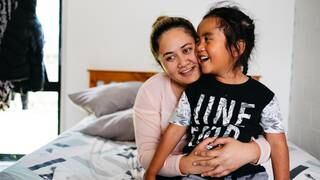 19 Aug, 2017 3:54pm
2 minutes to read
Exclusive: Compelling documentary challenges stereotypes around young mothers.
Protesters marching on Dunedin Hospital have forced Prime Minister Bill English and his entourage out a side door this afternoon. Source: ODT