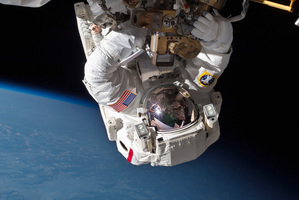 Snorkels in space? Nasa dreamed up the idea as a quick fix to a spacesuit problem so astronauts can step out to repair an equipment breakdown at the International Space Station.
One of the two United States astronauts preparing to embark on a series of spacewalks will be wearing an American-made suit that had a helmet leak in July, nearly drowning the European astronaut who wore it. The three spacewalks are planned for Sunday, Tuesday and Thursday to fix a broken cooling system.
An investigation into the cause of the leak that flooded Italian astronaut Luca Parmitano's helmet and forced him to rush back inside the station in July is still ongoing. Faced with an unexpected valve failure last week in the system that regulates the temperature of equipment aboard the orbiting outpost, Nasa engineers had to figure out a way to make the spacesuits safe.
They have replaced the water pump system in the suit Parmitano wore. An extra helmet absorption pad has been installed at the inside back of the helmet to soak up any potential leak, and a snorkel has been rigged up to offer another breathing route if needed.
"Some smart engineers on the ground were able to figure out, 'Hey this is a similar diameter to a snorkel that you have for scuba diving'," said Nasa lead spacewalk officer Allison Bolinger. "By just sacrificing one of our spares on board they were able to come up with a way to just snip off the ends and then file it so it is not rough in the crew member's mouth and then apply Velcro."
Astronaut Mike Hopkins will be wearing the suit Parmitano wore. He and Rick Mastracchio will have the new snorkels and pads inside their spacesuits for safety.
- AFP