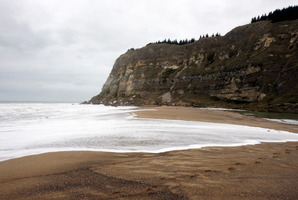 Waipatiki Beach in northern Hawke's Bay. Photo / Glenn Taylor
A mystery man on a kayak has rescued two brothers who almost drowned when they were dragged out to sea in a rip off a beach north of Napier this afternoon.
The teenagers were swimming with friends at Waipatiki Beach when they became caught in a rip about 2pm.
The brothers, aged 15 and 16, spent about 15 minutes trying to swim back to shore.
A man on the beach noticed them struggling and paddled his kayak out to rescue them.
The brothers were airlifted by the Lowe Corporation Rescue Helicopter to Hawkes Bay Hospital.
The 15-year-old was in a serious condition while his brother was transported as a precautionary measure.
A helicopter paramedic said the kayaker had gone by the time emergency services staff arrived.
- APNZ