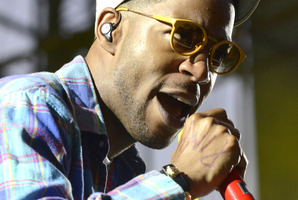 Rapper Kid Cudi has thanked security guards who took care of him after he passed out onstage at the North Coast Festival in Chicago, Illinois over the weekend.
The hitmaker was in the middle of his headlining set when he collapsed during a performance of Up Up And Away.
Cudi, real name Scott Mescudi, later assured fans he was fine and tweeted his appetite was to blame for his loss of consciousness.
The How to Make It In America star explained: "Ill do a better and make sure to eat properly on show days (sic)..."
The rap star also thanked staff at the festival for coming to his aid, adding: "Mad love to the security who were there and helped me out tonight. Really awesome dudes! Thanx for nursing me back to health."
- WENN