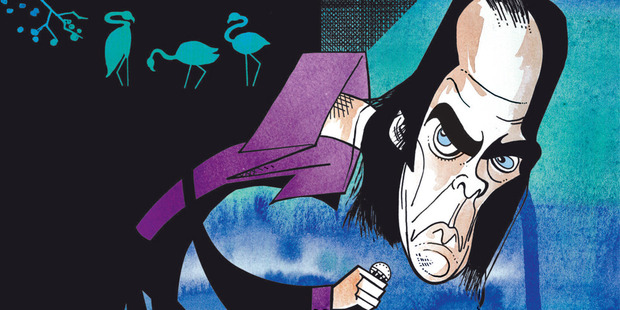 O, children, apologies for our scary cover. No there isn't a new Tim Burton movie out these school holidays. There are plenty of movies for you though.
No that's big Nick Cave as rendered by artist Richard Dale in celebration of Cave's forthcoming double feature at the Civic.
There's an unconventional rockumentary about him, 20,000 Days on Earth, screening at the film festival. And he's playing two nights at the same place come December as part of a four-date New Zealand tour.
Read and hear more: Nick of time (+playlist)
To some of us - and I realise Cave isn't for everyone - both events are very exciting. Very exciting.
For Cave is now in the position of generational rock poet laureate. What the likes of Bob Dylan and Leonard Cohen mean to the baby boomers, Cave means to many of us who lived through punk, post-punk, goth and beyond.
I once made a joke about Cohen being the Barry White of the bookclub set, after experiencing the female ardour for the ageing maestro on one of his many comeback tours. Cave is a bit like that too.
And not just because, like Cohen, he has never been seen since 1985 without a suit on. He's long written about and sung about sex and death and love and madness -- and joined the dots between them, often in ways that probably shouldn't work.
He was a angry, arty young man in his Birthday Party days and he's become a fascinating older one. He never makes a duff album. He writes confounding books. I've seen him live four times in New Zealand. He's never been less than exciting.
Now he's a movie, too. He's been in, written and scored a few movies himself of course. The bit where he and bandmate Warren Ellis turn up to sing in the bar at the end of The Assassination of Jesse James by the Coward Robert Ford -- which they soundtracked - is a perfect moment in a woefully underrated flick.
But it's Cave's songs I love. I started trying to write a list of his best love songs, as an intro to those who might still see him as the guy who is only good for anthems of death and madness. But it was taking too long. Though having his Breathless on repeat really loud sure is a great way to start deadline day.
So I asked Herald arts editor Linda Herrick - whose love for the guy is decidedly Cohen-esque. She churned it out in five minutes flat.
She's right on every one. You can read and hear it here: Read more: Cave's best love songs

- TimeOut