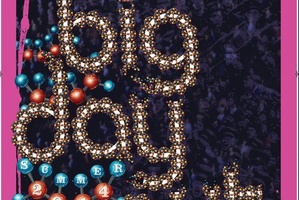 All Big Day Out music festivals have been cancelled across New Zealand and Australia for 2015, the Herald can confirm.
The American company that owns the festival, C3 Presents, confirmed to the Herald "there will not be a Big Day Out in 2015".
But in a statement, it wasn't the end of the Big Day Out forever.
"C3 Presents is proud to own Big Day Out, one of the most iconic and established festival brands in the world.
"While we intend to bring back the festival in future years, we can confirm there will not be a Big Day Out in 2015. We love working on BDO and are excited about the future."
The confirmation follows Australian media reports that no venues had been booked for the festival in 2015.
Co-promoter AJ Maddah reportedly stepped down earlier this month and ownership was transferred to the festival's American partners C3 Presents.
The Perth leg of the Big Day Out had already been scrapped after low attendance figures, and losses for this year's event were somewhere between $9-$12 million, the SMH reported.
Sydney Showground's general manager Peter Thorpe told the Sydney Morning Herald the Big Day Out would not be held at the venue in 2015.
"All I know is they cancelled the booking last week and we were told to release the date," he said.
"It's very disappointing for the fans and for us because it's an iconic event."
New Zealand Big Day Out promoter Campbell Smith told nzherald.co.nz he expected the event to return in 2016.
"I love the Big Day. I was distraught in 2012 and I didn't think we would be back. Bringing it back and it was so successful, it reinvigorated me. I'm excited to keep doing it.
"I think to get that show into Western Springs we probably should have done that 10 years ago. We have got it set up nice there so we have got to keep going."
On Twitter, he called 2015 a "hiatus".
Big Day Out on hiatus for 2015. A real shame for Auckland and NZ after an awesome 2014 gig, but we will be back. #BDONZ #westernsprings

— Campbell Smith (@smithitis) June 25, 2014
Read more: Campbell Smith says NZ BDO 'has got to keep going'
The Big Day Out returned to New Zealand this year after being cancelled in 2013 because of low crowd numbers in 2012.
Photos: Big Day Out 2014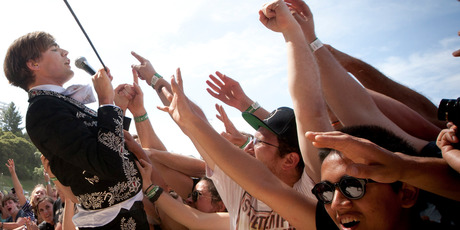 It was headlined by Pearl Jam, Snoop Dogg and Arcade Fire, and attracted near sell-out crowd numbers of more than 40,000.
But the festival was marred by sluggish attendance at some Australian venues and the last-minute pullout of co-headliners Blur, who were replaced by Deftones, Beady Eye and The Hives.
Reaction to the cancellation of the 2015 festival was mixed.
Big Day Out cancelled may be the least shocking breaking news since Pope went to church.

— Nik Dirga (@nikdirga) June 25, 2014
No more Big Day Out? Whaaaaaaaaa... I love that festival - especially at Western Springs http://t.co/JNfkttcFEW

— Charlotte Ryan (@CharlotteRyanNZ) June 25, 2014
Gutted about the Big Day Out being canned. (again).

— Elliott Smith (@elliottnz) June 25, 2014
Wow, the demise of Big Day Out has been startling and rapid. Just 4yrs ago it sold nearly 300k tickets instantly. Now it's almost dead!

— Asif (@AZ_HiFi) June 25, 2014
Well that's it....the Big Day Out as we've known & loved our whole lives is gone and will never be again. Farewell old friend....

— Miss Bonnie Blu (@missbonnieblu) June 25, 2014
Big day out cancelled for 2015. Horrible news. End of an era? Too many young people only like the doof doof....

— Lloyd Perris (@LloydPerris) June 25, 2014
Oh no. Big Day Out May be finished. This years was one of my favourites... Possibly because there's was hardly anyone... Oh. #bigdayout

— Nadja Mattata (@yaynadja) June 25, 2014
Sad news #BigDayOut is over

— Benjamin Gillies (@BenGillies888) June 25, 2014
- nzherald.co.nz