Paul Potts is looking forward to his tour Downunder, writes Paula Yeoman.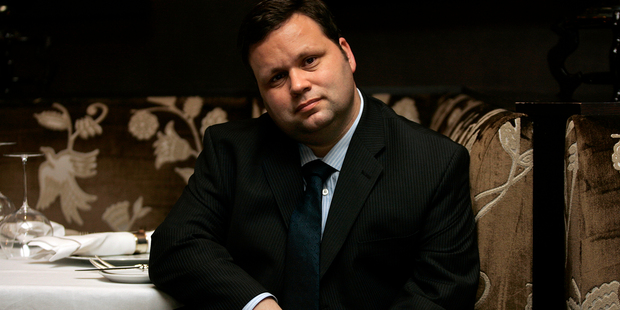 You could argue Paul Potts was handed fame and fortune on a silver platter when he won Britain's Got Talent. But you couldn't argue - especially if you've seen the film One Chance - just how deserving he was.
The chubby kid who defied the bullies and saved up for a private masterclass with Pavarotti in Venice; the Billy Elliot of opera; "A little lump of coal that's going to turn into a diamond," as Britain's Got Talent judge Amanda Holden put it when Potts delivered his jaw-dropping audition of Nessum Dorma in the first series in 2007.
The film took a light-hearted approach to Potts' rags-to-riches tale. It pleased the tenor because he couldn't bear a patronising sob story.
"When I read the screenplay it made me laugh, which is what I wanted it to do. I didn't want it to be a documentary.
"I wanted it to be something that made people laugh as well as reach in and touch them.
The last thing I wanted was for people to leave the cinema feeling sorry for me."
What you do feel is a sense of respect. Respect for the awkward mobile phone salesman who never gave up.
It also gives you an appreciation for the artist Paul Potts is today. He is earnestly loyal to his fans. And if that means visiting New Zealand five times in seven years, he will.
"It is a long way to go and because it's a smaller country, a lot of people look at it in the sense of which arenas they can fill. Without that they don't come.
"But I love going to places. I love reaching out and I love seeing people around the world," Potts says of his upcoming New Zealand tour, which begins in Auckland on April 19.
"It's got to work financially as well or management wouldn't book it," he chuckles. "But I don't quantify success by how much money I make. I quantify it by the fact I'm still doing it and I'm still enjoying it and my auditors are still enjoying it.
"And you will have critics who go to the show and they'll make their opinions felt but the most important critics of all are the ones who pay to put their bums on the seat. Without them buying tickets you don't have a career any more."
The last time he was on tour in New Zealand he was inundated with requests from fans to visit their towns and cities. So this time around he's arriving early, so he can.
"It's such a beautiful country and I'm happy I'm going to be seeing more places. It's such a long way to travel it would be a shame not to make the most of it."
And by that he means full tourist mode.
"I always wander around and take photographs. I always make time to see something because I like to experience the place I'm in; get some of the flavours and some of the atmosphere.
"To me that's really important because otherwise there's a danger of it just being studios, halls, hotels and airports," he says.
"I wouldn't do it if it was just that. There has to be more to it than that for me. People are what their surroundings are and to get a flavour of the audience, you also need to get a flavour of what they see day in and day out."
So please, feel free to say hello if you see Potts around town. And be assured if you're among those seeing him in concert, at a signing, or going back stage for a meet-and-greet, you won't get the standard "Hi, take quick photo, bye" treatment from Potts.
"If I do a signing, I'm not there just to sign people's stuff for half an hour. I will stay at a signing until it's done. I sometimes have pressure to move on but the people at the end, they've often been the ones waiting the longest.
"I've come close to missing flights before. Those are the people who give you your career."
Potts says his performances have grown in confidence over the years.
So those who saw him on his earlier trips to New Zealand may be surprised with the singer they find on this tour.
But some things never change. "I'm still as nervous as I ever was, that never goes away. But I see that as quite a positive thing.
"I think if you're not nervous before you perform, it's become a day job. A career in music is too special to be a day job. And you know, if you ever feel that way, that's when you should ask yourself, 'Should I still be doing this'?"
His honesty is endearing. It's why the world collectively cheered last week when he gave The X Factor 2012 winner James Arthur a dressing-down for lambasting his social media team on Twitter for talking about Mother's Day, suggesting they stick to "promoting Paul Potts" instead.
Potts responded: "Criticising your promotion team openly on here isn't the best idea.
Their wages come out of your budget and there will come a time when you need them more than they need you."
He later clarified to fans that he didn't feel Arthur was having a go at him, merely that there were better ways for the young singer to make his point - maybe in a less public forum.
Having received his big break in the same way Arthur did, just five years earlier, perhaps there's a lot to be learned from Potts.
He has worked tirelessly for charity and toured the world non-stop since his debut album topped the charts in nine countries on the back of his Britain's Got Talent win.
The Simon Cowell-created TV show is an opportunity Potts will be eternally grateful for.
But he admits to "sighing inwardly" when he now sees teenagers on such shows claiming their lives will be over if they don't make it through.
"How can you possibly say that? Firstly you shouldn't be saying that at all, let alone at 16. Sometimes people treat shows like The X Factor and Britain's Got Talent as though it's their first and last stab. But if you're trying out because it seems like the easy way, you'll come unstuck. There does come a time when you have to work at it."
And to this day, Potts says it's the words of the Svengali Cowell that still ring truest.
"If you get more than a year, then you're fortunate. To have had seven years, I'm incredibly fortunate. And one thing Simon said to me fairly early on, he said, 'Don't ever believe the hype. Create the hype, but don't believe it'. And it's really important. Because in six months' time, it may all just stop."
Paul Potts plays Auckland's Civic Theatre on April 19. For more dates visit paulpottsofficial.com