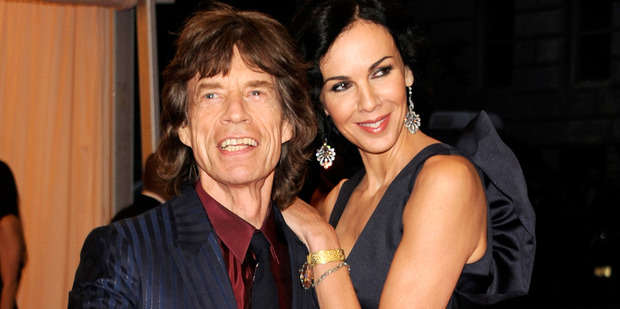 Rolling Stones frontman Mick Jagger says he is "struggling to understand" girlfriend L'Wren Scott's death as it emerged the fashion designer's business was grappling with multi-million-dollar debts.
Video: Mick Jagger's girlfriend found dead

Jagger, who was reportedly heading back to New York after the Stones postponed all dates on their Australia and New Zealand tour, described 49-year-old Scott as not only his lover but his best friend.
"I will never forget her," Jagger, 70, wrote in a blog post on his website, a day after Scott was found dead at her luxury New York apartment after her suspected suicide.
"I am still struggling to understand how my lover and best friend could end her life in this tragic way,'' Jagger wrote under a post entitled simply L'Wren, featuring a black and white photo of the former model.
"We spent many wonderful years together and had made a great life for ourselves. She had great presence and her talent was much admired, not least by me.
"I have been touched by the tributes that people have paid to her, and also the personal messages of support that I have received. I will never forget her."
Scott and Jagger, who was 21 years older, had been dating for well over a decade.
A spokesman for Jagger meanwhile angrily dismissed reports in the New York Post tabloid citing an unidentified source which said the rocker had recently broken up with Scott.
"This is a complete and utter fabrication and a result of ill-informed gossip at this tragic time for Mick. It is absurd and not true," Jagger spokesman Bernard Doherty said.
New York coroners meanwhile were to perform an autopsy on Scott's body today to pinpoint the precise of cause of death.
"We may have the results immediately today or maybe we need further tests," a spokesperson for New York's chief medical examiner's office said.

L'Wren Scott with Mick Jagger in 2012. Photo / AP
It emerged that Scott's business had large debts at the time of her apparent suicide according to latest accounts filed in Britain.
LS Fashion Ltd ran a loss of 4.2 million euros (NZ$6.8m) as of December 31, 2012, said the accounts lodged with Britain's Companies House last October and obtained by AFP.
The company ran up a loss of 3.0 million euros in 2011, the accounts said.
Last month, Scott cancelled her show at London Fashion Week because of production delays, but there had been little public sign that anything more serious was wrong.
Her body-hugging and figure-flattering dresses were loved by Hollywood stars and First Lady Michelle Obama alike.
In a relationship for well over a decade with Jagger, Scott had appeared to give the ageing rocker a degree of romantic stability despite the couple's age gap.
Before meeting Scott, Jagger had a multitude of affairs with models, singers and actresses, and has fathered seven children with four women.
He twice married models - Bianca and Jerry Hall - while other ex-lovers include singers Marianne Faithfull and Carla Bruni, who is now married to former French president Nicolas Sarkozy.
Born in Utah, Scott was adopted by Mormons and worked in Paris as a model before finding herself more interested in dress-making than walking the runway.
She moved to Los Angeles, where she began to work as a stylist and a costume designer for films before launching her own brand, now stocked in some of the world's most exclusive shops.
Launched in 2006, she called her first collection Little Black Dress, and then moved into shoes, handbags and eyewear, as well as collaborating on cosmetics with Lancome in 2010.
- AFP