Kiwi chart-topper drops in to be a judge at the talent quest that started her on the path to fame
After Letterman, Ellen, Bowie, a number one hit in the US and a multi-million dollar publishing deal on her 17th birthday, Lorde yesterday went back to where it all began - Belmont Idol.
It was here that Ella Yelich-O'Connor won the Belmont Intermediate School competition in 2009, singing Duffy's Warwick Avenue.
The video was shown to Universal Music representatives, who later signed her to their label.
Her song Royals is still No 1 on the US Billboard Hot 100 singles chart for the seventh week in a row, and has sold more than three million tracks in the United States alone.
Lorde said she was told that her old school was keen to have her as a judge just before she went on the David Letterman show in New York this week and became "really excited".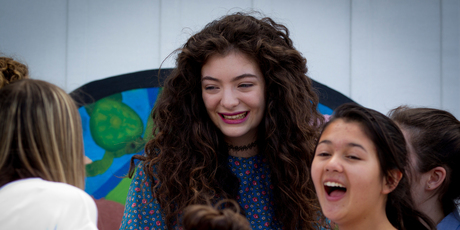 "Originally my mum said 'oh no she can't because she'll be really tired', but I said yes, yes, yes," the Belmont teenager said.
She returned from New York at 8am yesterday and was at her old school barely five hours later with her mother, Sonja Yelich.
Catching up with her former music teacher, Jenny Bezuidenhout, Lorde said it was "amazing" to be back at the school and it didn't feel like six years had passed since she left.
Mrs Bezuidenhout described her as "extremely talented" and said the school gave her a safe environment for her to "explore her talents".
"But Ella, being who she is inside, was always going to excel and become the star that she is today."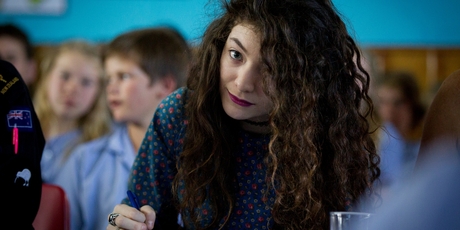 Lorde said she had good memories of her school days, including her first overseas trip to South Africa when she was 11 with Belmont's Kid's Lit team to represent New Zealand after winning the national finals.
Former class teacher Jenny Armitage remembered Lorde as "an absolutely exceptional child" who "always understood far more than other children".
Belmont principal Nick Hill said teachers were told of Lorde's appearance only yesterday morning and it was planned to be a surprise.
Mr Hill said Lorde initiated the visit when she found out that the competition coincided with her homecoming.
She was introduced last of three judges, and 550 students erupted into cheers and screams.
She gave Mrs Armitage a hug before taking her seat with Mrs Bezuidenhout and Sing School director Megan McFarlane.
After the 90-minute contest, Lorde read out the winners' names. Eleven-year-old Kip Griffin, who performed Maroon 5's One More Night took top spot.
Afterwards, he said Lorde was his "idol".
Another competitor, Kelly Robertson, 12, who performed Warwick Avenue - the same song Lorde sang in the competition - said it was "nerve wrecking" to be performing in front of the superstar.
Royals was played and Lorde sang along with the students.
Afterwards, she signed autographs and posed for photographs with students and some parents.