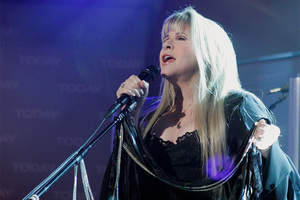 Stevie Nicks got through her mother's death by writing poetry about Game of Thrones.
The 65-year-old Fleetwood Mac singer, whose mother Barbara Nicks passed away last December at the age of 84, is a huge fan of HBO's adaptation of the best-selling series and credits its writer George R.R. Martin for helping her to get through one of the toughest moments in her life because she didn't want to leave her house.
The Landslide hitmaker told the Herald Scotland newspaper: "I didn't go [to the studio]. I didn't want to go. But it wasn't just that -- I didn't want to go anywhere. I didn't leave the house for almost five months.
"I worked on the edit of my documentary about the making of In Your Dreams. And then I got pneumonia. With my pneumonia and my mother's death I watched the entire first season of Game of Thrones - so that was great! That certainly took my mind off everything."
She added: "I would love to write some music for Game of Thrones. I've written a bunch of poetry about it -- one for each of the characters. On Jon Snow...On Arya...On Cersei and Jaime.
"It blows my mind that he's able to create this vast, interlinked world. As a songwriter I write little movies. But I can't imagine sitting down and writing even one small book."
Stevie previously revealed she wrote a letter to the cast of Glee after the death of its star Cory Monteith from a heroin overdose in July because her god-son died in similar circumstances last year.
She said: "I said, 'Forgive me if I'm stepping into your personal space. I lost my godson to an overdose last year- he died at a fraternity party - so I understand how shocking that is'."
- Bang! Showbiz